Every full moon has a name. Typically, the August full moon is known as the Sturgeon Moon, although it's sometimes also known as the Red Moon, Barley Moon, Green Corn Moon, or Grain Moon.
However… the Sturgeon Moon already graced us with its light on August 1st, which means that tonight is going to be a Blue Moon instead.
You've probably heard the phrase "once in a blue moon" before. But what does it mean? And what does the 2023 August Blue Moon represent for us on a spiritual level? Keep reading to find out!
What Is a Blue Moon?
---
First, let's clarify a misconception — a Blue Moon does not actually appear to be blue in color. (I know… bummer, right?)
There are two common definitions of a Blue Moon.
The first is a seasonal Blue Moon, which happens when four moons occur within a single astronomical season defined by the solstices and equinoxes. Typically, there are only three full moons within a season.
The second is a calendrical Blue Moon, which means two full moons occur within one calendar month. The lunar cycle takes about 29.5 days to complete; if a full moon appears on the first of a month, there will be a Blue Moon at the end of the month (except in February).
Although the seasonal Blue Moon was established first, most people observe the calendrical Blue Moon today.
When Is the August 2023 Blue Moon? (And Why Is It Special?)
---
The Blue Moon will reach its peak on Wednesday, August 30, 2023 at 9:35 p.m. ET.
This year, both of August's full moons are supermoons. This means that the moon is closer to Earth on its elliptical orbit, making the full moon appear slightly bigger and brighter. You'll especially notice this as it rises.
There will be four supermoons in 2023, and the Blue Moon will be the largest of them all! A Blue Moon and a supermoon overlapping on the same night happens roughly once every decade, so it's a special event. Not only does a supermoon cause higher tides than normal, but it also acts as a natural amplifier when it comes to spiritual energy. (Learn more about supermoons and how their intense energy might affect your lunar rituals.)
The Spiritual Meaning of the August Blue Moon
---
To understand the spiritual significance of this Blue Moon, we can look at the symbolism of the moons before and after — the Sturgeon Moon and Harvest Moon — and the surrounding Wheel of the Year Sabbats — Lammas/Lughnasadh and Mabon.
This Blue Supermoon lights up the night sky in between two of the three harvest festivals at the end of summer during a time of abundance. Not only are the farmers and gardeners reaping the benefits of their hard work, but the animals are also busy feeding, foraging, and storing food for the upcoming winter.
We can feel this prosperous energy in the power of the full moon, and we channel it into our personal intentions and rituals. Spiritually, we can use this time as an opportunity to celebrate the positive accomplishments we've achieved while also being mindful about the importance of preparation.
People living off the land didn't eat all of the food they harvested. Yes, they celebrated by feasting with the community, but they also set some aside for winter, and they collected seeds to plant the garden in spring.
(Speaking of seeds… If you're looking for raw, untreated, GMO-free, heirloom seeds for your garden, check out Seeds Now.)
This same duality of mindsets is present as we honor the Blue Moon in the midst of the harvest season. How can you reinvest what you've accomplished into continued success?
Altar Tips, Colors, & Crystals for the Sturgeon Moon
---
Ideal altar colors for this rare Blue Supermoon reflect the colors of autumn: dark green, yellow, deep red, amber, gold, and burnt orange. You can coordinate the candle colors on your altar to match the intentions behind your rituals.
Anything scavenged from your garden or backyard would be a wonderful decoration for your altar or home. End-of-summer flowers, stones, moss, bark, bones, nuts, shell, leaves, et cetera. You might also visit a local farmer's market to find seasonal fruits and vegetables, gourds, sunflowers, grains, and other types of food that could decorate your altar for the Blue Moon and then be used for a healthy meal.
The best crystals to use around this time of year are tigers eye, garnet, red agate, and carnelian. For the Blue Moon, some other options include labradorite, selenite, tourmaline, and quartz.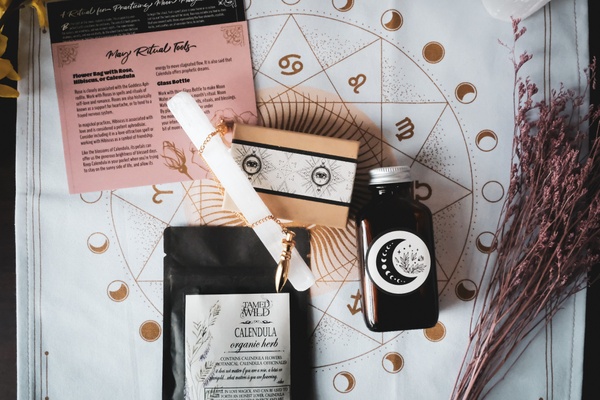 Tamed Wild Box - $60.00
from:
Cratejoy
Blue Moon Ritual Ideas for a Solitary Witch
---
Hold a harvest ritual
Perform protection magick to prepare for the dark part of the year
Earthing/Grounding by making prolonged skin-to-earth contact
Tend to the garden
Cut and arrange flowers to decorate your home and altar
Write down your goals and intentions in a jjournal
Perform candle magick
Meditate
Consult runes, tarot cards, and/or an oracle deck
Take a ritualistic bath
Need some recommendations for candles and bath products?
Hemlock Park crafts beautiful aromatherapy candles and spa packages, handcrafted with natural ingredients. They offer crystal candles and organic coconut wax candles with wood wicks. But here's why I love this company — they partnered with One Tree Planted to focus on reforestation. A tree is planted for every order placed.
Mama Wunderbar quickly became a favorite for me! I purchased some beautifully packaged smoke-cleansing kits as Christmas gifts and have been in love with this company ever since. Although they have a greater selection of crystals, smoke-cleansing (smudging) bundles, and jewelry, they do have a limited but beautiful candle section, including crystal candles, ritual candles, moon phase candles, and intention candles. When you order from Mama Wunderbar, you can count on everything being all-natural, high quality, and sustainably grown and harvested in the United States. It's a great one-stop shop for your online spiritual needs!
Old Soul Artisan creates handcrafted candles inspired by folklore, literature, and the dark psyche. They also offer seasonal fragrances, such as a special Samhain candle. Their 100% vegan soy candles are hand-blended in small batches and contain no dyes, parabens, phthalates, or other toxins. Another reason to love this company — Old Soul Artisan donates part of its profits to wolf conservation.

Enchanted Crystal - $46.50
from:
Cratejoy
A monthly subscription box is a fantastic way to celebrate the full moon! See my top witchy/spiritual box recommendations.
Remember, however you celebrate the full moon is completely up to you and on your own schedule. There is no right or wrong way; just do what feels best for you.
For more information on full moons, see the 2023 full moon calendar with names, dates, and meanings here.
Award-winning fantasy author, freelance writer, spiritual explorer, and sole founder of Green Witch Lunar Witch. She created her first website in 2016 and published her first novel two years later. Sara spends most of her time writing, creating, and daydreaming.