The date for the autumnal equinox is Thursday, September 22, 2022, signifying the official arrival of fall in the northern hemisphere. (Goodbye, summer! Move over for my favorite season!)
Besides pumpkin spice everything returning to our palate, this is a great time to recognize the temporary balance and gradual transition in the natural cycle. Many cultures celebrate Mabon and the autumn equinox.
Mabon happens to be one of my favorite Sabbats. In this article, we'll explore its origins, plus rituals ideas, altar decorations, and simple recipes to try.
What Is the Autumnal Equinox?
---
The equinox is the time of the year when the days are the same length as the nights. We have two equinoxes every year. Ostara is celebrated at the spring equinox in March, and Mabon is celebrated at the autumn equinox in September.
The equinox symbolizes a time of perfect balance between the dark and the light. It's the tipping point.
However, while Ostara welcomes the shift from winter to summer (and light finally overpowering the dark), Mabon is the other side of the coin. It signifies the period of transition from light, warmth, and prosperity to the cold, dark period of rest.
What Is Mabon? History, Origins, & Symbolism
---
Celebrated by many different Pagan and Wiccan traditions, Mabon is the mid-harvest festival.
It's a celebration of the changing seasons and also a time to rest after the fruitful harvest. Although the mid-harvest festival can trace its history back to ancient times, Mabon became a staple celebration among modern witches and pagans in the 1970s.
Named after a Welsh mythological figure, it's the second of three harvest festivals that take place in the Wheel of the Year (Lammas is the first and Samhain is the third).
During Mabon, we acknowledge that we have reaped what we've sown in both the physical sense as well as the spiritual; Mother Nature has bestowed us with abundance to prepare for winter, and we can look back at our goals and aspirations from Imbolc and Ostara to see how our positive intentions have manifested.
We are grateful. We thank the earth for its fertility and the sun for its life-giving warmth during the growing season.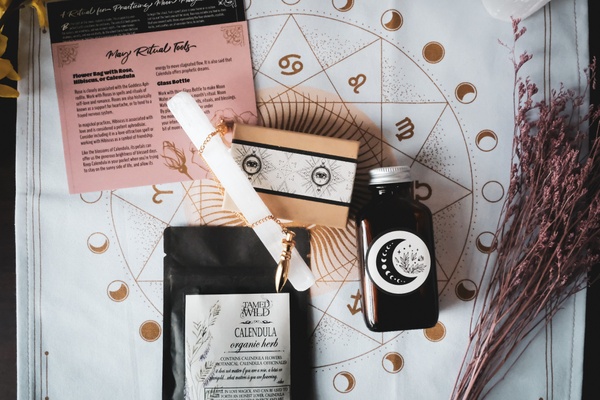 Tamed Wild Box - $60.00
from:
Cratejoy
Mabon Rituals to Try at Home
---
The most common fall equinox celebration is a lavish feast with friends and family. It's best to use as many locally sourced and homegrown ingredients as possible. If you don't have a garden of your own, consider visiting your local farmer's market or roadside stands in the countryside.
One of the easiest traditions is using this time to decorate your home for autumn. Light candles; cut fresh fall flowers; decorate with pine cones, acorns, and gourds; set chrysanthemums on your porch steps.
Other activities that suit the spirit of Mabon and autumn equinox traditions well include earthing, taking a walk and appreciating nature, foraging, and planting bulbs that will rest in the upcoming period of darkness to grace us with new, invigorating life in the spring.
You might be tempted to clean your garden, but I recommend doing so minimally. Deadhead only what is necessary. Remember that fallen leaves and old debris help to insulate your plants during the winter if you live in a cold climate, not to mention they provide hiding places for animals and insects. Old stalks can also add winter interest from an artistic aesthetic.
The full moons at harvest time are brimming with energy, so you might consider making and stocking up on moon water during the Sturgeon Moon, Harvest Moon, and Hunter's Moon.
Although we often think of spring as the time for cleaning, now is a great time to complete your unfinished projects and clear out unneeded rubbish from your home. As the flora and fauna around us prepare to hunker down for the winter, we also must prepare our hibernation space. Take an extra moment to purify your crystals and choose the right smoke bundle (also known as smudging in some cultures) to cleanse your home.
Psst… Mama Wunderbar offers beautifully packaged smoke-cleansing bundles, as well as crystals, jewelry, and candles. Everything is sustainably grown and harvested in the United States.
Tips to Decorate Your Mabon Altar
---
If you honor the tradition of arranging an altar for seasonal celebrations, Mabon's should be lavished with bounties from the harvest. Dress it with produce from the orchard, field, forest, garden, and market. Acorns, apples, blackberries, corn, elderberries, gourds, grains, grapes, squash . . . you can be creative with whatever you can find.
(Just remember to be mindful when harvesting from the wild and be sure to leave behind plenty of fruit, nuts, and berries for the wildlife. We aren't the only ones preparing for winter.)
Mabon's colors are red, brown, gold, orange, and yellow. Three of the most common symbols of Mabon are the cornucopia, pine cone, and apple:
The cornucopia, also known as the Horn of Plenty, represents the wealth of the harvest.
The pine cone is often seen as a symbol of fertility. It forms a perfect Fibonacci sequence and is an iconic part of fall and winter.
The apple holds great significance in many cultures and sacred traditions. Not only is it a symbol of life, renewal, vitality, and wholeness, but it also holds a secret within; when cut in half across its girth, the interior of the apple forms a pentagram, which is a symbol of faith and represents the five elements: Spirit, Air, Earth, Water, and Fire. A circle around the pentagram symbolizes the circle of life, the cycle of nature, and the universe connecting all five points.
Simple Recipes for the Autumnal Equinox
---
Below are a few traditional recipes to celebrate Mabon:
SOMERSET APPLE CAKE
4 apples, peeled and finely chopped
3 oz butter or margarine
1/2 qt milk
2 eggs
3 tbsp sugar
2 oz flour
1/2 tsp cinnamon
Pinch of salt
4 oz sultanas (optional)
Milk (if needed)
1. Fry the peeled and chopped apples in hot butter. Combine the milk, eggs, and flour, then stir in the apples and butter and mix well. If the dough is too stiff, add more milk as needed.
2. Place mixture in a greased 7″ cake tin and sprinkle cinnamon and sugar on top.
3. Bake for one hour at 375°F until bread has risen and is firm to the touch. Cooking times may vary based on the oven. Place on a wire rack to cool. The cake can be eaten either cold or warm with cream.
---
STUFFED ACORN SQUASH
2 acorn squash
1/2 stick of butter
1/2 cup of crushed crackers
1/4 cup of chopped walnuts
1/4 cup of brown sugar
1. Wash and cut the acorn squash in half longways from stem to bottom. Scoop out the seeds and rub butter on the inside of the squash, then place on cookie sheet.
2. Melt the butter. Mix in walnuts, brown sugar, and crackers, and place in the squash.
3. Bake for 30-40 minutes at 350°F.
---
ROSEMARY POTATOES
8 red potatoes
8 cloves of garlic
3 tbsp olive oil
1 tsp ground pepper
1/3 cup of minced fresh rosemary (or 2 tbsp dried rosemary)
1/2 cup chopped green onions
1. Scrub the potatoes and chop them into quarters. Peel and chop the garlic, mix with potatoes, and place in a baking dish. Drizzle with olive oil.
2. Sprinkle with salt, pepper, and rosemary, then toss to ensure potatoes are evenly coated.
3. Roast for 30 minutes at 400°F or until the potatoes are crispy on the outside but tender on the inside. Garnish with chopped green onions and serve.
Have fun!
However you choose to celebrate the autumnal equinox, remember that this time of year is a celebration of life. Choose the practices that best apply to you and make them your new tradition with your own personal spin. There is no "right way" or "wrong way" to celebrate.
Do you have any Mabon traditions or recipes? Please share in the comments! I'd love to see how you celebrate the autumnal equinox!
Award-winning fantasy author, freelance writer, spiritual explorer, and sole founder of Green Witch Lunar Witch. She created her first website in 2016 and published her first novel two years later. Sara spends most of her time writing, creating, and daydreaming.