There's usually one full moon per month, unless there's a blue moon (a second full moon within a single calendar month).
Every full moon has its own name, and July's is called the Buck Moon.
This tradition of naming the full moons goes back to the early Native American tribes. For people who didn't rely on the 365-day calendar, the lunar cycles helped to keep track of time. The seasonal weather, harvests, tribe activities, flora, and fauna inspired the names of the full moons.
The Buck Moon is also sometimes referred to as the Stag Moon, Thunder Moon, Raspberry Moon, Salmon Moon, or Hay Moon.
When is the Full Buck Moon?
The Buck Moon falls in July toward the end of the month. It comes after the Strawberry Moon in June and the Corn Moon in August (or September, depending on the year).
This year, te Buck Moon will reach its peak on July 13, 2022 at 2:37 p.m. ET.
Full Buck Moon Meaning
The Buck Moon received its name for the time of year when a buck's antlers are developing. The antlers are coated in velvety fur and starting to push out of the forehead.
The alternative names for the full Buck Moon can be attributed to a season of strong thunderstorms fueled by summer heat and humidity, the raspberry and hay harvests, and the salmon migration.
---
---
How to Celebrate and Honor the Full Buck Moon
The Buck Moon represents a time of personal growth. It's no surprise when you look at the symbolism of growth and maturity as bucks adorn their antlers.
The Buck Moon brings a buzz of energy. Even though the days are getting shorter now, summer is still in full swing with hot, sunny days, blooming flowers, and the upcoming harvest. The garden is yielding fruits and vegetables for our tables.
All of this climactic energy can feel overwhelming, but the full Buck Moon also reminds us to let go of things in order to make room for all of the new growth.
When setting your intentions, consider what might be hindering your growth or causing you pain. What is stopping you from flourishing? What's stifling your creativity? What do you need to change or remove from your life in order to prosper?
Common altar colors for the Buck Moon are based on summer's finery — gold, green, blue, and yellow. Seasonal flowers are always an excellent addition to the altar as well, plus stones, shells, and other scavenged natural items. The prosperity and positive energy of the Buck Moon makes the July full moon a prime time to make moon water.
Remember, however you celebrate the full moon is completely up to you and on your own schedule. There is no right or wrong way; just do what feels best for you.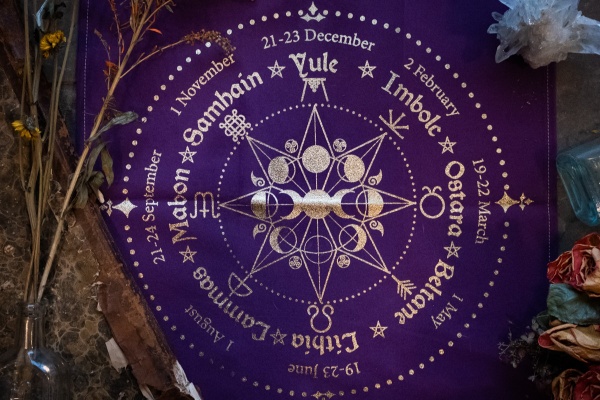 Tamed Wild Box – $20.00
from: Cratejoy
A monthly subscription box is a fantastic way to celebrate the full moon! See my top witchy/spiritual box recommendations.
For more information on full moons, see the 2022 full moon calendar with names, dates, and meanings here.
Award-winning fantasy author, freelance writer, spiritual explorer, and sole founder of Green Witch Lunar Witch. She created her first website in 2016 and published her first novel two years later. Sara spends most of her time writing, creating, and daydreaming.