Ostara is celebrated at the spring equinox, which falls between March 19-21 in the northern hemisphere, depending on the year. It represents rebirth, new beginnings, and revitalization, and it's also the first official day of spring.
This year, Ostara falls on Monday, March 20, 2022. Keep reading to learn more about the spring equinox and ways to welcome the changing seasons.
What is Ostara? Why We Celebrate the Second Sabbat
---
Ostara is a celebration to welcome the arrival of spring. The equinox is one of two days per year when the day and night are equal lengths, hanging in balance for a pivotal moment before the northern hemisphere shifts into the light half of the year when the sun is out longer, the days become warm, and the flora springs back to life from the earth.
Ostara is the second Sabbat in the Wheel of the Year, between Imbolc and Beltane.
Although many Wiccans and Pagans plan their Ostara celebrations around the equinox, some choose to move their spring ceremonies to when they plant the garden or the first day that feels like spring, depending on the weather in their region. Since the celebration is based on the season, it isn't necessarily tied to the calendar. There's nothing wrong with celebrating Ostara on a different day.
History & Origins of Ostara
---
Not much is known about the earliest Ostara celebrations. The festival was mainly Germanic in honor of the Goddess of the spring and the dawn, Eostre (whose name has had many variations through the ages). The first writings about Ostara come from the Venerable Bede.
Many religions recognize this time of rebirth and honor deities who have been resurrected, including Jesus (Christians), Mithras & Attis (Romans), Dionysus (Greeks), Osiris (Egyptians), Freya (Norse), Tammuz (Babylonians), Inanna (Sumerians), among others, including Eostre. Maiden goddesses, as well as deities associated with fertility, nature, and agriculture, are often worshiped during this time.
However, atheistic celebrations are also held to honor the planting and growing season, the reawakening of the Earth after a cold winter, the longer, warmer days with fair weather, and the return of life. The season may be represented by a deity, but worship is not a requirement. Ostara can truly be celebrated by anyone of any faith.
Tips to Decorate the Ostara Altar: Colors, Symbols, & Crystals
---
Ostara's predominant colors are commonly associated with springtime decorations, including:
Robin-egg blue
Pale yellow
Pink
Lavender
Bright, grassy greens
Ostara is associated with fertility, as symbolized in seeds, eggs, and rabbits. Other symbols of Ostara include flowers, buds, grass, and the sun, especially sunrises. Any of these symbols and elements would make a great addition to the altar. Some people like to add soft, delicate touches such as lace or woven baskets.
If you're looking for the best crystals to channel the energy of Ostara, the same types of crystals that work well for the Worm Moon (which usually appears near the Second Sabbat) would suit your Ostara altar:
Labradorite – connect with the psyche, dreams, creative muses, spiritual awakening
Amethyst – spiritual protection, insight, self-reflection, shadow work
Moss Agate – restoration, healing, rebirth, a connection with earth and plants
Black Tourmaline – strength, stabilization, grounding, alleviating fear (onyx and obsidian are also good alternatives)
Selenite – purification, cleansing, protection, a symbol of light, ties to the moon
Moonstone – new beginnings, fertility, intuition, lunar/feminine energy
Sunstone – light, life, energy, luck, prosperity, empowerment
Carnelian – connected to the element of fire and the sacred flame
Clear quartz – healing, peace, cleansing the mind and aura, divination
Rose Quartz – love, friendship, romance, self-love
Rhodonite – "stone of love," passion, fertility, grounding energy, healing emotional scars
Fire is a powerful element that is frequently used in Wheel of the Year celebrations. Candles are always an excellent adornment for the altar, especially in the spring when they represent the sun and the longer days ahead. Check out my earlier post about how to choose the right candle color for your intentions.
I always recommend supporting small, local businesses in your area, but if you're shopping for candles online, here are three of my top recs:
Hemlock Park crafts beautiful aromatherapy candles and spa packages, handcrafted with natural ingredients. They offer crystal candles and organic coconut wax candles with wood wicks. But here's why I love this company — they partnered with One Tree Planted to focus on reforestation. A tree is planted for every order placed.
Mama Wunderbar quickly became a favorite for me! Although they have a greater selection of crystals, smoke-cleansing (smudging) bundles, and jewelry, they do have a limited but beautiful candle section, including crystal candles, ritual candles, moon phase candles, and intention candles. When you order from Mama Wunderbar, you can count on everything being all-natural, high quality, and sustainably grown and harvested in the United States. It's a great one-stop shop for your online spiritual needs!
Old Soul Artisan creates handcrafted candles inspired by folklore, literature, and the dark psyche. Their 100% vegan soy candles are hand-blended in small batches and contain no dyes, parabens, phthalates, or other toxins. Another reason to love this company — Old Soul Artisan donates part of its profits to wolf conservation.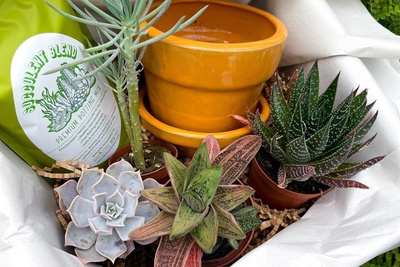 My Garden Box - $39.00
from:
Cratejoy
Ostara Rituals
---
I had mentioned fire being an important element for Wheel of the Year festivals. If you're able to (and the weather is cooperating), what better way to ring in spring than with a bonfire to celebrate the sun?
Spring cleaning may seem like a mundane chore, but you can make it a meaningful part of your Ostara celebration. Hibernation often leads to clutter, so making a mindful effort to revitalize and clean your space can have a profoundly therapeutic effect on your psyche. Spice up your cleaning routine with music and dancing if that helps turn the chore into a positive experience!
Decorating eggs is a great Ostara ritual, especially for little ones. Eggs are a symbol of spring and fertility, and decorating them for the season is a long-practiced custom. Other forms of creativity, such as music, art, and writing, are encouraged.
Prepare the garden. This might include starting seeds (either indoors or out), tilling up the land, clearing dead leaves and plant matter from garden beds, transplanting early seedlings, etc. However, don't start this activity too soon! Queen bees and other insects may still be hibernating in the leaf litter. It's best to wait until after the threat of frost has passed before you start cleaning the garden and landscape beds.
Decorate your home with the symbols and colors of Ostara. Pick spring flowers and arrange them in vases to brighten up a room. Find new and creative ways to bring spring into your home.
Don't forget some self-love. You're coming out of hibernation, too… treat yourself to a relaxing bath, a walk in nature, or other activities that bring you peace. We're all entering a frenzied period of chaotic energy and growth now that spring is officially here. It's easy to be consumed by that hyperactivity.
Meditate on your aspirations. What do you hope to accomplish this year? Think of your goals as you do your garden. This is the time to start planning, planting, and nurturing those goals into fruition. You might consult tarot/oracle cards for some extra guidance.
Psst… need to stock up on seeds? Check out SeedsNOW for organic, non-GMO seeds to start your healthy garden. Short on gardening space? The Garden Tower Project is a vertical gardening solution that composts waste to feed your plants.

Ostara Recipes
---
Below are a few traditional recipes to celebrate Ostara.
DEVILLED EGGS
6 eggs (preferably organic free-range)
3 tbsp mayonnaise
1 1/2 tsp dijon mustard
2 tbsp chives (finely chopped)
Salt, pepper, paprika
Tabasco (optional for spice)
1. Hard boil the eggs between 9-15 minutes, depending on how large the eggs are.
2. Once the eggs have cooled, remove the shells, cut the eggs in half long-ways, and scoop the yolks out.
3. Mash the yolks with the mayo, vinegar, mustard, and chives. Salt and pepper to taste. If you prefer a little spicy kick, add a dash of tabasco.
4. Scoop or pipe the mixture back into the hardboiled egg whites and sprinkle paprika on top for color. Enjoy!
VARENEKY (DUMPLINGS)
2 c flour
1 c milk
1 egg (preferably organic free-range)
1 tsp vegetable oil
1/4 tsp salt
1/2 lb shredded sharp cheddar cheese
2 tbsp chives (finely chopped)
2 c mashed potatoes
1. Heat 3 qts water and 1 tbsp salt in a large pan.
2. Mix flour, egg, salt, milk, and vegetable oil until you have a sticky dough, then roll the dough out on a floured cutting board and cut into circles.
3. Combine the shredded cheese, chives, and mashed potatoes into a filling, then place in the centers of the dough with 1-2 tbsp of the filling per dough circle.
4. Wet the edges of the dough and fold in half, then pinch them together to seal.
5. Boil for 10 minutes, then remove, drain, and fry in butter until brown. Enjoy!

Apothecary At Home - $39.99
from:
Cratejoy
Have Fun!
---
However you choose to celebrate Ostara, there is no "right way" or "wrong way." Choose the practices that best apply to you and make them your new tradition with your own personal spin.
Do you have any special traditions you'd like to share? Please post in the comments!
Award-winning fantasy author, freelance writer, spiritual explorer, and sole founder of Green Witch Lunar Witch. She created her first website in 2016 and published her first novel two years later. Sara spends most of her time writing, creating, and daydreaming.