Have you ever wondered why the full moon's name changes every month? Or how it got that name in the first place?
A long time ago, early Native American tribes christened each moon. They chose the moon's name based on the season, which is why the moons are typically named based on the weather, flora, fauna, or tribe's activities such as hunting or harvesting. People haven't always used the 365-day calendar, so naming the moons based on the season helped to keep track of time.
The Flower Moon is also sometimes referred to as the Milk Moon, Mother's Moon, Frog Moon, or Corn Planting Moon.
When Is the Flower Moon?
---
The Flower Moon falls in May toward the end of the month. It comes after the Pink Moon named for the phlox that carpets the ground in April and the Strawberry Moon in June.
This year, the Flower Moon will reach its peak on Friday, May 5, 2023 at 1:34 p.m. ET.
It's also going to be a penumbral eclipse! However, only skywatchers in Australia, Antarctica, Eastern Africa, Oceania, and Asia will be able to see the eclipse. The event will reach its peak at 1:24 p.m. EDT.
Flower Moon Meaning: Why Is It Called a Flower Moon?
---
The Flower Moon's name isn't much of a mystery given the time of year it graces the sky. Gardens and landscapes are in full bloom with perennials such as primrose, bleeding heart, bloodroot, iris, violet, hellebore, peony, et cetera; flower trees such as pear, crape myrtle, crabapple, magnolia, redbud, dogwood, and others; and spring bulbs including bluebell, hyacinth, lily of the valley, tulip, daffodil, crocus, and more.
As for the May full moon's other names, this is the time of year when the tribes and farmers plant corn. The frogs are singing their mating songs, and milk-producing livestock such as sheep, goats, and cows now have lush green pastures to fill their bellies and produce more milk.
Flower Moon Spiritual Meaning
---
The May full moon embodies the spirit of Beltane and all the energy of new life, passion, fire, and rebirth. It brings creativity, inspiration, and a sense of purpose with it.
The Flower Moon in May is a spiritual reminder that our goals should be manifesting. This is the blooming season, but it's also the planting season. Tap into the energy for growth and fertility. Take some time to think about your intentions and what needs to be done in order to reach your goals come harvest season. This may mean asking yourself some hard questions and reevaluating your priorities and plans.
Don't feel overwhelmed if you feel like the goals you set at the beginning of the year are still far away. We can't magically leap to the top of the staircase in a single jump; the journey happens one step at a time. If you feel like you aren't progressing, take a moment to focus. What do you need to prioritize? What is the next step forward that needs to be taken? What is holding you back (and therefore needs to be released)?
Let the spiritual energy of the Flower Moon inspire you to continue growing, even though it comes with a reminder that we can't move forward until we let go of what's inhibiting our ability to fully blossom.
How Does the Eclipse Affect the Full Moon's Energy?
---
The full moon is a powerful force by itself. It's a crescendo and a culmination, the end of the lunar cycle. A typical full moon brings high energy, closure, and emotional release. Add in the power of an eclipse, and that energy can become chaotic.
The Flower Moon already comes with a dose of chaos due to what's happening seasonally in the Northern Hemisphere at this time. Leaves and flowers are springing open in the sunlight. Animals are in a frenzy as they build nests, forage for food, search for a mate, give birth, and raise their newborns. Farmers are tilling the soil to plant crops. People are spring cleaning, preparing gardens, and spending more time outside to reconnect with nature.
The eclipse amplifies this energy, and it can be difficult to harness and control it. Usually, I recommend making moon water and charging your crystals in the light of the full moon. But when there's an eclipse, use caution if you decide to do that. Be mindful of how the energy is affecting you spiritually and emotionally. You might feel inspired to channel that energy into busy work. However, take care to ensure that you're being productive, not just busy.
Eclipses remind us to let go. Every beginning has an end, and sometimes, clinging to the past prevents us from moving forward. Remember that in order for there to be an eclipse, the earth, sun, and moon must be aligned. What is aligning in your life right now? What could be aligned if you let go of something that's holding you back?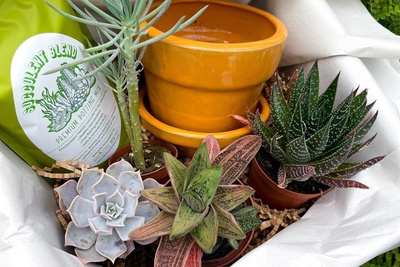 My Garden Box - $39.00
from:
Cratejoy
Flower Moon Altar Tips, Colors, & Crystals
---
The most common altar colors for the Flower Moon are yellow, red, orange, and green. Freshly cut flowers make a perfect altar decoration.
In fact, you can go even further and find many more ways to incorporate flowers on this special night. Arrange them in vases to decorate your home. Integrate them into your tea and cooking. Add them to your bath. Press blossoms that you can later use in your book of shadows, journal, artwork, or even a thoughtful surprise tucked in a card for a loved one.
Crystals that work well with the Flower Moon include:
Moonstone – new beginnings, fertility, intuition, lunar/feminine energy
Selenite – purification, cleansing, protection, a symbol of light, ties to the moon
Labradorite – connect with the psyche, dreams, creative muses, spiritual awakening
Amethyst – spiritual protection, insight, self-reflection, shadow work
Rose Quartz – love, friendship, romance, self-love
Rhodonite – "stone of love," passion, fertility, grounding energy, healing emotional scars
Flower Agate – new beginnings, self-growth, restores emotional balance
Moss Agate – restoration, healing, rebirth, a connection with earth and plants
Black Tourmaline – strength, stabilization, grounding, alleviating fear (onyx and obsidian are also good alternatives)
Smoky quartz – grounding, emotional calmness, stress relief
Clear quartz – healing, peace, cleansing the mind and aura, divination
The Flower Moon occurs near Beltane. Since the sacred flame is such a powerful Beltane symbol, including candles on your altar could help you tap into the Flower Moon's spiritual energy. If you're not sure what color candles are best to amplify your intentions, check out this color guide for candle magic.
Flower Moon Ritual Ideas for a Solitary Witch
---
There are genuine health benefits to grounding (also sometimes called earthing) as your body transfers electrons and reduces the level of free radicals. Take off your shoes and sit or lie in the grass as you watch the moon rise.
If you can, venture into your garden to watch the Flower Moon. There's a great natural synergy between the Flower Moon and the life teeming in the garden. Take some time during the day as well to tend to the garden, plant some perennials or annuls, appreciate the beauty, and harvest some of the flowers (but leave some behind for the pollinators).
Psst… need to stock up on seeds for your garden? Check out SeedsNOW for organic, non-GMO seeds to start your healthy garden. Short on space? The Garden Tower Project is a vertical gardening solution that composts waste to feed your plants.
Weaving/braiding grasses and flowers into little wreaths is a relaxing activity that would be great for solo or group rituals. It's also a fun activity for kids to get excited about the full moon.
Leave an offering outside. It could be the wreath you spent time making, or an object that spiritually represents relinquishing something to the full moon, or perhaps you might choose to leave something edible for the wildlife as a way of giving back to nature.
If you need help understanding what the Flower Moon and the eclipse are trying to tell you, consult your runes or tarot/oracle cards for additional guidance. Before you do, sit quietly for a while and meditate. Let your mind, body, and spirit tune in to the full moon's energy.
I also recommend taking a relaxing bath surrounded by your favorite candles and crystals. Again, be mindful and respectful of the eclipse's impact on the Flower Moon. Don't let the chaotic energy overwhelm you; take a moment to breathe. If you're looking for a new candle company to support, I recommend:
Hemlock Park crafts beautiful aromatherapy candles and spa packages, handcrafted with natural ingredients. They offer crystal candles and organic coconut wax candles with wood wicks. But here's why I love this company — they partnered with One Tree Planted to focus on reforestation. A tree is planted for every order placed.
Mama Wunderbar quickly became a favorite for me! Although they have a greater selection of crystals, smoke-cleansing (smudging) bundles, and jewelry, they do have a limited but beautiful candle section, including crystal candles, ritual candles, moon phase candles, and intention candles. When you order from Mama Wunderbar, you can count on everything being all-natural, high quality, and sustainably grown and harvested in the United States. It's a great one-stop shop for your online spiritual needs!
Old Soul Artisan creates handcrafted candles inspired by folklore, literature, and the dark psyche. Their 100% vegan soy candles are hand-blended in small batches and contain no dyes, parabens, phthalates, or other toxins. It's a small, woman-owned, USA business. Another reason to love this company — Old Soul Artisan donates part of its profits to wolf conservation.
If you're short on time or don't have access to a garden or wildflowers, you can always buy yourself a bouquet. As long as you take a moment to slow down, appreciate the beauty and sweet fragrance, and think about what this season represents, you're doing everything right.
How you celebrate the full moon is completely up to you and on your own schedule. There is no right or wrong way; just do what feels best for you.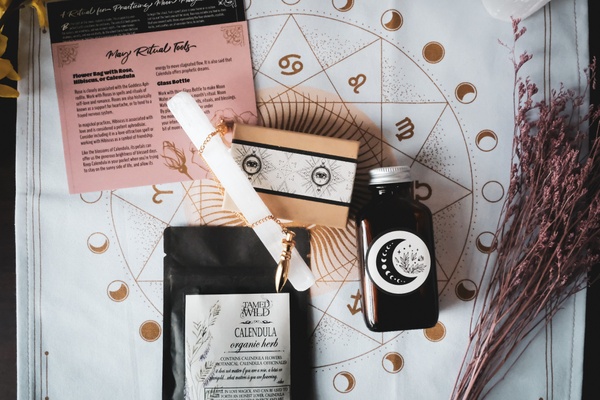 Tamed Wild Box - $60.00
from:
Cratejoy
A monthly subscription box is a fantastic way to celebrate the full moon! See my top witchy/spiritual box recommendations.
For more information on full moons, see the 2023 full moon calendar with names, dates, and meanings here.
Award-winning fantasy author, freelance writer, spiritual explorer, and sole founder of Green Witch Lunar Witch. She created her first website in 2016 and published her first novel two years later. Sara spends most of her time writing, creating, and daydreaming.