Have you ever wondered why the full moon's name changes every month? Or how it got that name in the first place?
A long time ago, early Native American tribes christened each moon. They chose the moon's name based on the season, which is why the moons are typically named based on the weather, flora, fauna, or tribe's activities such as hunting or harvesting. People haven't always used the 365-day calendar, so naming the moons based on the season helped to keep track of time.
The Flower Moon is also sometimes referred to as the Milk Moon, Mother's Moon, Frog Moon, or Corn Planting Moon.
When Is the Flower Moon?
---
The Flower Moon falls in May toward the end of the month. It comes after the Pink Moon named for the phlox that carpets the ground in April and the Strawberry Moon in June.
This year, the Flower Moon will reach its peak on May 16, 2022 at 12:14 a.m. ET. It's also going to be a total lunar eclipse, so you don't want to miss it! The Flower Blood Moon eclipse is going to be an insanely powerful night for rituals this year.
Why Is May's Full Moon Called a Flower Moon?
---
The Flower Moon's name isn't much of a mystery given the time of year it graces the sky. Gardens and landscapes are in full bloom with perennials such as primrose, bleeding heart, bloodroot, iris, violet, hellebore, peony, et cetera; flower trees such as pear, crape myrtle, crabapple, magnolia, redbud, dogwood, and others; and spring bulbs including bluebell, hyacinth, lily of the valley, tulip, daffodil, crocus, and more.
As for the May full moon's other names, this is the time of year when the tribes and farmers plant corn. The frogs are singing their mating songs, and milk-producing livestock such as sheep, goats, and cows now have lush green pastures to fill their bellies and produce more milk.
The Spiritual Energy of the Flower Moon
---
The May full moon embodies the spirit of Beltane and all the energy of new life, passion, fire, and rebirth.
The Flower Moon in May is a spiritual reminder that our goals should be manifesting. This is the blooming season, but it's also the planting season. Tap into the energy for growth and fertility. Take some time to think about your intentions and what needs to be done in order to reach your goals come harvest season. This may mean asking yourself some hard questions and reevaluating your priorities and plans.
Ways to Honor the Flower Moon: Rituals, Altar Colors, Decorations, Etc.
---
If you can, venture into your garden to watch the Flower Moon. There's a great natural synergy between the Flower Moon and the life teeming in the garden. Take some time during the day as well to tend to the garden, plant some perennials or annuls, appreciate the beauty, and harvest some of the flowers (but leave some behind for the pollinators).
The most common altar colors for the Flower Moon are yellow, red, orange, and green. Freshly cut flowers make a perfect altar decoration.
In fact, you can go even further and find many more ways to incorporate flowers on this special night. Arrange them in vases to decorate your home. Integrate them into your tea and cooking. Add them to your bath. Press blossoms that you can later use in your book of shadows, journal, artwork, or even a thoughtful surprise tucked in a card for a loved one.
If you're short on time or don't have access to a garden or wildflowers, you can always buy yourself a bouquet. As long as you take a moment to slow down, appreciate the beauty and sweet fragrance, and think about what this season represents, you're doing everything right. How you celebrate the full moon is completely up to you and on your own schedule. There is no right or wrong way; just do what feels best for you.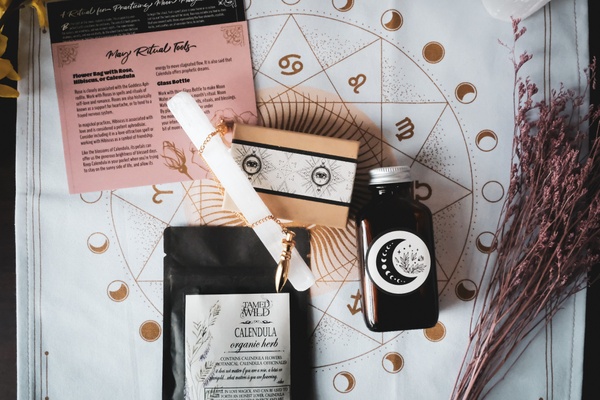 Tamed Wild Box - $60.00
from:
Cratejoy
A monthly subscription box is a fantastic way to celebrate the full moon! See my top witchy/spiritual box recommendations.
For more information on full moons, see the 2022 full moon calendar with names, dates, and meanings here.
Award-winning fantasy author, freelance writer, spiritual explorer, and sole founder of Green Witch Lunar Witch. She created her first website in 2016 and published her first novel two years later. Sara spends most of her time writing, creating, and daydreaming.