From October 31st to November 1st, which is about halfway between the autumnal equinox and the winter solstice, people around the world celebrate Samhain.
But what exactly is Samhain? Is it just the Pagan version of Halloween?
Learn all about the third harvest festival in the Wheel of the Year and discover the origins and rituals of Samhain, plus altar ideas and easy recipes to try.
How to Pronounce "Samhain" Correctly
---
In writing, many English speakers presume that Samhain would be pronounced as "sam-hane." However, this is incorrect.
Most people default to the traditional Irish pronunciation of "sah-wn." There are some variations among different cultures. Commonly used Gaelic pronunciations are "sow-een" and "shahvin."
The origin of the word Samhain is unknown, but it may have been derived from the words sam, meaning "summer," and fuin, meaning "fun."
What Is Samhain? Why We Celebrate the Third Harvest Festival
---
This festival, signifying the beginning of the dark half of the year, has been celebrated since ancient times. Samhain has Celtic Pagan origins. It's the third of the harvest festivals (after Lammas and Mabon) in the Wheel of the Year, and it prepares us for winter while honoring our ancestors and the natural cycle of death and rebirth.
During this time of the year, the leaves have fallen, the fields are bare, the nights are longer, the ground sparkles with frost in the dawn, and a persistent chill hangs in the air. Winter is coming. The barrier between the realms of the living and the spirits is thinner, especially beneath the light of a full moon.
This is the most opportune time of the year to communicate with the dead.
Many cultures host celebrations during this time. In addition to Samhain, there is Halloween, Day of the Dead, All Saints' Days, and All Souls' Day, among others. Samhain in particular is often practiced among modern-day witches, which includes Pagans and Wiccans.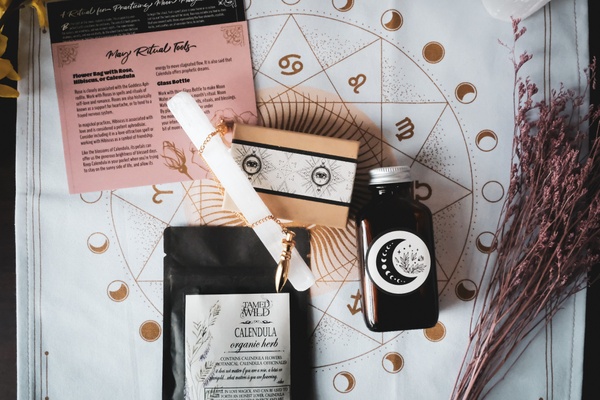 Tamed Wild Box - $60.00
from:
Cratejoy
The Origins of Samhain: How Halloween Arose from Samhain's Roots
---
Is Samhain synonymous with Halloween?
Not exactly.
Halloween and Samhain are not the same holiday. Our modern-day version of Halloween is actually a melding of Samhain and the Christian celebration of All Saints' Day. I'll dive deeper into this merge in a minute.
First, let's rewind back to Samhain's origins. We can trace early rituals and spiritual practices back thousands and thousands of years.
The Mound of the Hostages in Ireland, built sometime between 3000 BCE and 2500BCE, was a place where the Neolithic people of Ireland buried the ashes and bones of their dead. The ancient passage tomb was carefully designed so the sun rays would shine into the structure only two days out of the year: Imbolc on February 1st, and Samhain on November 1st.
Samhain was a time to appease the gods in the hopes of avoiding a harsh winter, honoring the dead during the time of the year when the veil was thin and the spirits could easily move between realms, helping the souls of the recently departed find their way to the other side, and consulting ancient spirits of the other realm.
The Celts would light massive bonfires and gather together as a community. They feasted and played games, and they left food offerings in front of their doorways to placate hungry ghosts and faeries and prevent them from entering the home. As the night drew to an end, Celts clad in costume would have a parade to the edge of town, leading the ghosts away.
Early texts present Samhain as a mandatory celebration lasting three days and three nights where the community was required to show themselves to local kings or chieftains. Failure to participate was believed to result in punishment from the gods, usually illness or death.

There was also a military aspect to Samhain in Ireland, with holiday thrones prepared for commanders of soldiers. Anyone who committed a crime or used their weapons during the celebration faced a death sentence.

Some documents mention six days of drinking alcohol to excess, typically mead or beer, along with gluttonous feasts.

https://www.history.com/topics/holidays/samhain
The Roman Empire introduced apple trees to Samhain, which led to the tradition of bobbing for apples. However, due to the Pagan roots of Samhain, the Roman Catholic Church was determined to replace it with its own celebration. Pope Gregory III changed the date of All Martyrs' Day, which had been celebrated among Christians in May, to November 1st as a replacement for Samhain, renaming it All Saints' Day in the process.
"Hallow," meaning a saint or holy person in ancient usage, brought other names into the mix, including All Hallows, Feast of All Saints, and Hallowmas. All Hallow's Eve blended with Samhain traditions, eventually evolving into modern-day Halloween.
Day of the Dead (Día de Muertos), celebrated in Latin American cultures, was originally held at the beginning of summer. With a similar theme to Samhain, the celebration honored the ancestors. It was believed that the beloved spirits would return to join in the celebration with their living descendants.
When the Spaniards arrived in the 16th century, they viewed the practice as sacrilegious and, as with Samhain, the church sought to convert the "heathen festival" to a more Christian outlook. The holiday was moved on the calendar to coincide with All Saints' Day.
While Halloween, Day of the Dead, and Samhain are separate traditions, they do share similar elements with one another. However, it's important to remember that despite their similarities, they are not synonymous.
Is Samhain About Worshipping the Devil?
---
No.
The idea of "devil-worshipping heathens" was perpetuated by the church during its aggressive crusade to convert non-believers and spread its religious views across Europe (and the globe). Samhain is about honoring the ancestors and celebrating the final harvest as we enter the dark half of the year, not praying to Satan.
In fact, witchcraft in general is not about Satan (contrary to what religious leaders might preach). Any nature-based religion or spiritual perspective was often branded as "evil" witchcraft and condemned. But at its core, this was a smear campaign intended to crush the non-Christian religions of indigenous people.
It's important to note that witchcraft is a broad term that has nothing to do with religion. You can be a Christian and also be a witch. It's also possible to be an atheist witch. Or a Pagan, or a Wiccan. Or a Satanist. Witchcraft and devil worship are not connected, nor are they mutually exclusive. If you celebrate the seasonal changes, and you connect with nature, and you acknowledge that you are a small, interconnected part of a greater organism (Mother Earth)… then you're a witch, regardless of your religious affiliation.

Enchanted Crystal - $46.50
from:
Cratejoy
Samhain Rituals for a Solitary Witch
---
Looking for new Samhain ritual ideas to try?
Visiting the graves of loved ones passed is a common part of Samhain. You might consider taking a trip to decorate the gravestones of your ancestors and pay homage to their memories. Spend some time in remembrance at their final resting places.
Share fond memories of departed ancestors with your living family. Tell stories. Look at photographs together. Watch home movies. Deceased pets can be included in this as well; our fur babies are part of the family, after all, even after they've crossed the rainbow bridge.
Samhain can also be a time to say a prayer for the forgotten dead. Perhaps a tragedy struck you close to the heart, even if you didn't personally know anyone who lost a life. A school shooting. 9/11. An accident that happened near you. This is a time to connect, release pent-up grief, and find peace in the knowledge that life is fleeting and death is a natural part of the balanced cycle.
Take some time to meditate by the altar. You can focus on connecting with your ancestors, or you can direct your concentration to the earthly transition of the seasons. Think of what you are grateful for. Appreciate the benefits of the harvest that have been reaped, and thank the Earth for all that she has provided before she goes to sleep for a well-deserved rest.
You are welcome to pray to any deity/deities you hold dear, but this aspect does not have to be incorporated into your rituals if you are not religious. You're free to celebrate the seasons and the deceased without tying the practice to a deity.
Divination is a powerful tool during this time. Scrying, rune readings, and tarot readings will serve you well.
How to Decorate Your Samhain Altar
---
If you are using this ceremonial time to honor your ancestors, you can place photos of the souls you wish to honor on your altar, or create a separate shrine. Mementos and heirlooms, such as jewelry passed down from an ancestor, can also be used to adorn the altar.
The Samhain altar often includes symbols of death, such as skulls, skeletons, or grave rubbings. You can also forage in the garden and add flower remains, husks, acorns and other nuts, and dried leaves to the arrangement. Remaining yields from the last harvest, such as gourds, pumpkins, straw, root vegetables, and squash also make a good addition.
Samhain's color palette is much darker than Mabon's to signify the shift into the darkness of winter. Use deep purples, burgundies, blacks, and dark grays.
Lingering symbols of the harvest can be incorporated, such as golds and oranges. Candles are an especially prominent feature of Samhain, and it's not uncommon to see an altar glowing with a collection of candles ranging in size with short in the front and tall in the back. Check out another post I wrote about choosing the right candle color to match your intentions and rituals.
Psst… Old Soul Artisan makes an amazing Samhain candle! Their 100% vegan soy candles are hand-blended in small batches and contain no dyes, parabens, phthalates, or other toxins. Another reason to love this company — Old Soul Artisan donates part of its profits to wolf conservation.
Simple Samhain Recipes
---
Below are a couple of simple, traditional recipes to celebrate Samhain:
IRISH SOUL CAKES
4 c flour
1 packet dry yeast
1 c milk
2 Tbs butter
1/2 tsp cinnamon
1/2 tsp salt
3/4 c sugar
1/2 c lemon zest
1 1/4 c golden raisins
1. Cream yeast with 1 tsp of sugar and 1 tsp of milk until frothy.
2. In a separate bowl, blend in flour, spices, and salt, and then cut in butter. Add the rest of the sugar to the flour mix and blend, then add the rest of the milk. Beat the egg into the yeast mixture and combine with the flour mixture. Beat until stiff.
3. Fold in the raisins and lemon zest, then cover with a damp cloth and let it rise.
4. Divide in two. Place each half in greased 7″ round pan. Cover and let rise again for 30 minutes. Bake for 1 hour at 400 degrees.
ROASTED PUMPKIN SEEDS
1. After you've removed the seeds from your pumpkin for your holiday Jack-O-Lantern, rinse them thoroughly and ensure that all the extra pumpkin bits have been removed (otherwise, it's likely to burn).
2. Toss the seeds in melted butter.
3. Sprinkle a pinch of salt and add your favorite seasoning:
Italian style: garlic powder, dried oregano, and basil
Spicy style: curry and paprika
BBQ: dry barbecue seasoning
Ranch: powdered ranch dressing mix
Sweet style: cinnamon and sugar
Pumpkin pie style: allspice, nutmeg, sugar, and cinnamon
4. Once the seeds are coated completely with the seasoning of your choice, spread them evenly in a single layer on a baking sheet and bake in the oven at 300°F for 45 minutes, occasionally stirring the seeds around on the sheet.

Apothecary At Home - $39.99
from:
Cratejoy
Finally… Have Fun!
---
However you choose to celebrate Samhain, there truly is no "right way" or "wrong way." I believe that the spirit and tradition of Samhain can be adapted to your own beliefs, whether you worship one deity, multiple gods and goddesses, or none at all. Choose the practices that best apply to you and make them your new tradition with your own personal spin.
Do you have any Samhain traditions or recipes? Please share in the comments!
Award-winning fantasy author, freelance writer, spiritual explorer, and sole founder of Green Witch Lunar Witch. She created her first website in 2016 and published her first novel two years later. Sara spends most of her time writing, creating, and daydreaming.