The Yuletide season is rapidly approaching! If you're looking for a spiritual, witchy, or homey present, check out this compilation of ideas to help you find the perfect gift for the season. (Product images are clickable links)
Book of Shadows
A book of shadows is a place for a witch to record knowledge. This can be just about anything: crystal uses, meditation practices, chakras, spells, mantras, herbology notes, personal goals, et cetera. Choosing a beautiful and unique book of shadows to wrap as a gift will make the Yuletide celebration even more special.
Oracle or Tarot Cards
These are great tools for meditation and spiritual practices. While it's perfectly acceptable to purchase your own deck in this day in age, the cards are said to hold special meaning when received as a gift from someone else. Tarot cards are more structured and have more rules, whereas oracle cards are more free-flowing and can vary in number depending on the deck (the featured image is my all-time favorite oracle deck due to the stunning artwork). If you aren't sure what the difference is between the two kinds of decks, think of it like this: oracle cards show the big picture while tarot cards reveal the finer details. The oracle is a book chapter; the tarot is the individual pages within the chapter, but they both ultimately tell the same story and can be used separately or together.
Rune Set
Runes are tools of divination to provide insight to a situation or answer a question. There are many beautiful rune sets, and they can be crafted of different materials such as wood, stone, crystal, bone, or metal (the image featured is lapis lazuli). If you're presenting a rune set to a beginner, make sure you either select a kit that includes a guide and/or rune book, or purchase a rune book separately, as many sets include the runes and a small pouch but no book. If you find the perfect rune set but need to buy the book, the most widely accepted and popular version is The Book of Runes by Ralph. H. Blum.
Crystals
The possibilities are just about endless! From clusters, to geodes, to jewelry, to wands, to pocket stones, to a crystal ball, and many other varieties, gifting a crystal conveys a special meaning depending on which crystal(s) you select. Rose quartz, for example, is a gift of love and friendship. Amethyst signifies spiritual protection. Tiger's Eye is said to bring good fortune and prosperity. Obsidian and rainbow obsidian absorb and seal away negativity. With a little research, you can find the perfect crystal to symbolize your well wishes and kind intentions to a loved one. This can be a deeply personal gift choice.
Diffusers & Warmers
Nothing brightens the atmosphere of the home in the dead of winter quite like a wax warmer or essential oil diffuser. Melting wax in a warmer that's been crafted into a unique piece of art releases wonderful seasonal and personal favorite fragrances throughout the home. Essential oils are popular in the witchcraft and spiritual environments, whether to clear the mind, relax, concentrate, meditate, or even serve as an aphrodisiac, depending on the need and the essential oil being used. However, if you go with the diffuser option, be mindful that many essential oils are very harmful to cats because felines lack a specific enzyme in their liver and therefore have difficulty metabolizing and eliminating certain toxins, phenols, and phenolic compounds found in essential oils. If the recipient is a cat owner, be sure to pass along the disclaimer (dogs aren't at as big of a risk, but it still wouldn't hurt to research all the essential oils you plan to use or gift). If in doubt, it's safer to stick with a wax warmer. Scentsy offers a wide variety of beautiful diffusers and warmers to choose from.
Candles
It's hard to go wrong with candles! Whether they're used for rituals and meditation or just to add some warm light and fragrance to a room, this is a great pick for anyone on your holiday shopping list. It's a good idea to check the product description and make sure you're buying candles that are made of natural ingredients and free of dyes, parabens, phthalates, or other toxins.
For candles that have fragrance, I recommend Old Soul Artisan, which prides itself on 100% vegan soy candles made by hand in small batches. It's a wonderful small, USA-based company that bases its fragrances on literature and folklore (read my product review here). Candlesticks are also a great option for altars and rituals! My top pick is this colored pack of 100% pure beeswax handmade taper candles.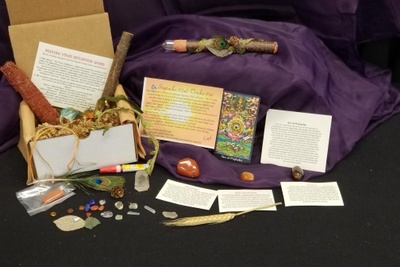 Subscription Box
One of the best perks about gifting a subscription box is that in most cases, you can purchase a single, nonrenewing box that contains a variety of goodies. If the recipient loves the box, s/he can always sign up for a monthly subscription to continue the fun and excitement. Cratejoy offers a ton of different boxes ranging from arts & crafts, to mystery activities, to self-care, to snacks, to health & beauty, and just about anything you can imagine. They support black-owned and small businesses, so you can feel good about making a purchase. And with such a wide variety, you shouldn't have any problem finding a theme that a friend or loved one will appreciate!
Top witchy box picks:
Tamed Wild Box – $20.00
Items for the earth-spirited and lovers of all things mystical and natural, including crystals, herbs & teas, ritual tools, altar items, jewelry, essential oils, and other lifestyle pieces.
The Plant Club – $24.95
Features a new houseplant each month, as well as cool pots and home decor
Goddess Provisions – $33.00
Ritual box with crystals, aromatherapy, natural beauty, and spiritual tools
Apothecary At Home – $39.99
Dried herbs, seeds, and educational material to teach you about herbal medicine
The Winter Series by Magickal Folk – $22.00
A seasonally relevant box of herbs, healing crystals, ritual oils, incenses, candles, and many more tools you will need for pathworking within the Wheel of the Year.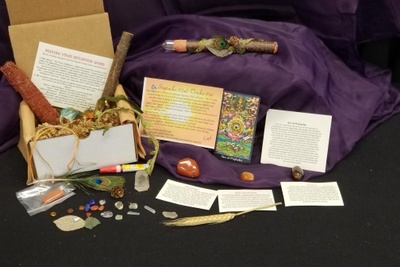 Magickal Earth – $39.99
Crystals, astrology, and tarot