Early Native American tribes named each full moon of the month based on the seasons and the landscape, weather, flora, or fauna present at the time, or based on the tribe's activities. The Cold Moon is also sometimes referred to as the Long Night's Moon.
When does the Cold Moon occur?
The Cold Moon falls in mid or late December. It comes after the Beaver Moon, when the settlers would set their traps before the ponds and rivers froze, and the Wolf Moon, when haunting howls of the packs carried across the frozen midwinter landscape.
How did it earn its name?
Depending on the region, the first blanket of snow has likely settled by the time this full moon makes its appearance. The celebration of Yule and the winter solstice occurs in December, marking the shortest day of the year. With winter's official arrival on the solstice and the longest night of the year, the Cold Moon was aptly named.
Honoring the Cold Moon
This moon arrives either right before or right after the winter solstice. We find beauty in the seemingly dead landscape, be it the everlasting green of the holly and pine, or the unique shape of seed pods left in the garden, or the glitter of frost and snow beneath the Cold Moon. Take time to slow down and appreciate every step forward you've made this year. Now is a time for reflection and rest. Just as the Earth and its creatures are hibernating, this is your time to recharge. Be calm. Be grateful. Find the light in the depths of the long nights, and if you can't find it, light a candle and bring your own light to the darkness. Soon enough, it will be a new year and a time to set new intentions. Remember that a tree can't keep growing indefinitely; it needs time to rest before its next big push come spring, and so do you. Meditate. Quiet your mind. Reflect.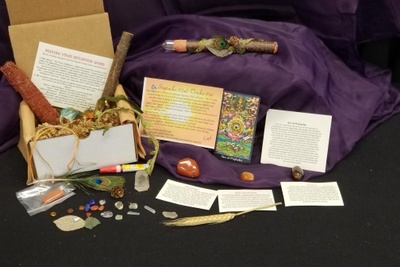 Magickal Earth – $39.99

A subscription box is a fantastic way to celebrate the full moon!

Each month, your Magickal Earth box will be curated to offer provisions to match the month's energy. The Basic comes in a package and includes monthly crystals. The Essential box includes crystals, a monthly astrological overview, and a tarot card drawn just for you. The Premium box offers crystals, astrology, tarot, and many magickal items.
For more information on full moons, see the 2021 full moon calendar with names, dates, and meanings here.