Naming the full moon of each month goes back to the early Native American tribes, who chose each denomination based on the seasons and what they yielded or what they represented. The Hunter's Moon is also sometimes referred to as the Blood Moon, Sanguine Moon, Migrating Moon, or Falling Leaves Moon
When does the Hunter's Moon occur?
The Hunter's Moon falls in October. In two out of three years, it's the only full moon of the month, but every third year, a Corn Moon in September causes the Harvest Moon to appear in early October, making the Hunter's Moon in those years become a blue moon (the second full moon in one month).
How did it earn its name?
As the tribes begin to prepare for a cold, long winter, this was the best time to hunt for game and stock provisions. The harvest is over, and bare fields make it easy to spot foxes and deer. Game is now mature and fattened for winter. With the leaves falling, the brush is thinner, giving prey fewer places to hide.
Honoring the Hunter's Moon
This moon usually falls between the pagan celebrations of Mabon and Samhain. When it's a blue moon, it's often very near or on the same day as Samhain, as it is this year on All Hallow's Eve 2020. Both of these celebrations are harvest festivals that are traditionally honored with a feast. It's a time to give thanks for the abundance yielded from the Earth before the deep sleep settles in and a blanket of snow covers the landscape. When honoring the Hunter's Moon, be mindful of both the transitioning seasons as well as the shifting balance between dark and light. We are entering the dark months; it's a good time to appreciate the full moon as a consistent source of light to guide us through the dark. Things are beginning to wind down. We've worked hard and seen our intentions and goals come to fruition, and now we start to turn inward again to refocus and rest, just as the Earth does to prepare for new growth in spring. Be sure to reflect on your accomplishments, even if the victories are small.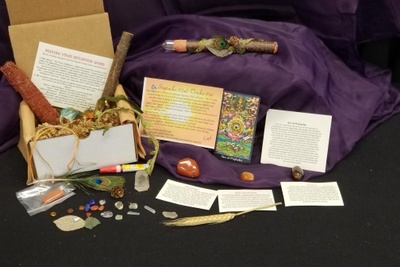 Magickal Earth – $39.99
A subscription box is a fantastic way to celebrate the full moon!
Each month, your Magickal Earth box will be curated to offer provisions to match the month's energy. The Basic comes in a package and includes monthly crystals. The Essential box includes crystals, a monthly astrological overview, and a tarot card drawn just for you. The Premium box offers crystals, astrology, tarot, and many magickal items.
For more information on full moons, see the 2021 full moon calendar with names, dates, and meanings here.