There's nothing quite like the site of a full Hunter's Moon rising in the chilly October sky.
Naming the full moon of each month goes back to the early Native American tribes, who chose each denomination based on the seasons and what they yielded or what they represented.
The Hunter's Moon is also sometimes referred to as the Blood Moon, Sanguine Moon, Migrating Moon, or Falling Leaves Moon.
When Is the Hunter's Moon?
---
The Hunter's Moon falls in October. It lands between the Harvest Moon and the Beaver's Moon.
This year, the full Hunter's Moon will reach its peak on Saturday, October 28, 2023 at 4:24 p.m. ET.
In two out of three years, it's the only full moon of the month. Every third year, a Corn Moon in September causes the Harvest Moon to appear in early October, making the Hunter's Moon in those years become a blue moon (the second full moon in one month).
Hunter's Moon Meaning: Why Is It Called the Hunter's Moon?
---
As the tribes began to prepare for a cold, long winter, this time of the year was spent hunting for game and stock provisions.
Now that the harvest was underway, bare fields made it easier to spot foxes and deer. Game was now mature and fattened for winter. With the leaves falling, the brush was thinner, giving prey fewer places to hide.
Full Hunter's Moon Spiritual Meaning
---
The Hunter's Moon resonates with us on a deep spiritual level because it rises during a major seasonal shift. Symbolically, the Hunter's Moon represents transition, prosperity, fulfillment, and preparation.
Transition: The Hunter's Moon is usually the first full moon of fall. We find ourselves in the middle of a pivotal shift — the end of summer, changing leaves, light to dark, hot days to cold nights.
Prosperity: This is a time of abundance. The Hunter's Moon occurs between the Mabon and Samhain harvest festivals in the Wheel of the Year. Farmers are harvesting their crops. Animals are in a scavenging frenzy as they gather nuts and seeds to store for the winter. Game is fat and easy spot for hunters to spot in the cleared fields.
Fulfillment: Just as we harvest from our garden, it's also time to see how the intentions we set at the beginning of the year are panning out. How have you advanced in your goals? Are you heading in the right direction? Even if you haven't fully achieved your dreams yet, can you appreciate the progress you've made and the accompanying sense of fulfillment?
Preparation: After abundance, there will be scarcity. Our ancestors knew this, and while they celebrated the reaping of their harvest, they also had the foresight to plan ahead and stock up for winter. Failure to properly prepare meant certain death. This is a critical ideal to remember with the Hunter's Moon. We can celebrate our prosperity, but we must also be mindful of the challenges ahead even as we prepare for the upcoming period of rest.
How to Honor the Hunter's Moon: Altar Tips, Colors, Crystals, & Ritual Ideas
---
Both Mabon and Samhain are harvest festivals that are traditionally honored with a feast, so celebrating the Hunter's Moon with locally harvested food is always a fitting tribute. You might consider cooking a special meal for friends and/or family.
Decorate your altar with food from your harvest. Scavenged items such as colorful leaves, acorns, walnuts, fall flowers, seed pods, gourds, pumpkins, squash, etc. also make a wonderful addition… but be sure to take in moderation. Leave plenty for the animals, birds, and insects who are preparing for winter.
The color scheme for the Hunter's Moon includes black, silver, gold, navy blue, ruby red, deep purple, and burnt orange. Any colors that remind you of fall will be relevant.
The best crystals to tap into the energy of the Hunter's Moon are clear quartz, black tourmaline, obsidian, amethyst, bloodstone, moonstone, and carnelian. For me, charging my collection of crystals is always a part of my full moon rituals, and the summer/fall full moons are particularly powerful for cleansing and recharging.
When honoring the Hunter's Moon, be mindful of both the transitioning seasons as well as the shifting balance between dark and light. We are entering the dark months; appreciate the full moon as a consistent source of light to guide us through the dark. Let it be a beacon that reminds us of the natural cycles.
Things are beginning to wind down. We've worked hard and seen our intentions and goals come to fruition, and now we start to turn inward again to refocus and rest, just as the Earth does to prepare for new growth in spring. Be sure to reflect on your accomplishments, even if the victories are small.
Now is also the time to start planting the seeds for next year, both physically and spiritually. For example, I spent the afternoon planting fall bulbs so my garden will be full of color in the spring. Try to apply this same mindset to your intentions. What seeds do you need to plant to get the blooms you desire? What intentions do you need to set?
The Hunter's Moon is full of intense, sometimes aggressive energy. Be mindful of this energy and try to channel your hunting mode appropriately. Focus your energy on the right target.
When the Hunter's Moon is a blue moon (the second full moon in the same calendar month), it's often very near or on the same day as Samhain. Don't forget that this time of the year is when the veil between the physical and spiritual realms is at its thinnest. We feel more connected with our spiritual roots and our ancestors. You might consider taking an extra moment to remember loved ones who have passed on. Let your ancestors in on this night of reflection and intention setting.
Due to the thin veil, the Hunter's Moon is a powerful time to set intention rituals, perform candle magick, and seek divination guidance from your tarot or oracle decks.
Other tips: I like to use the power of a full moon to create moon water and do a smoke cleanse (also known as smudging in some cultures) around my home.

Enchanted Crystal - $46.50
from:
Cratejoy
Looking for a good tradition to help you celebrate the full moon? A subscription box is a great way to help you grow your collection of spiritual tools and set new intentions for the month and season.
Check out my top picks for the best witchy/spiritual subscription boxes.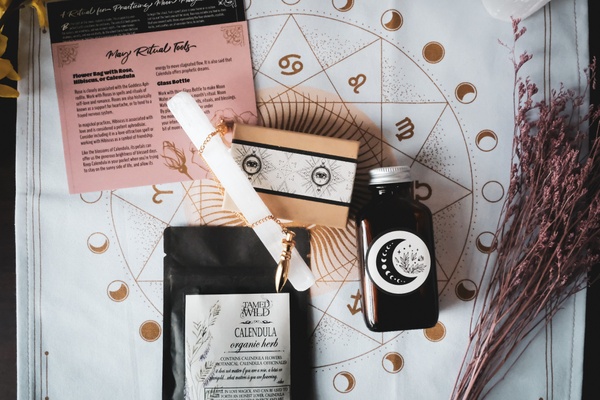 Tamed Wild Box - $60.00
from:
Cratejoy
---
For more information on full moons, see the 2023 full moon calendar with names, dates, and meanings here.
Award-winning fantasy author, freelance writer, spiritual explorer, and sole founder of Green Witch Lunar Witch. She created her first website in 2016 and published her first novel two years later. Sara spends most of her time writing, creating, and daydreaming.