Every month has at least one full moon, and each full moon has a name. Early Native American tribes christened the moons to reflect the season, whether that was in the form of the weather, flora, fauna, or tribe's activities such as hunting or harvesting.
The Pink Moon is also sometimes referred to as the Egg Moon, Grass Moon, Budding Moon, or Fish Moon.
When Is the Pink Moon?
---
The Pink Moon falls in April. It comes after the Worm Moon at the early onset of spring and the Flower Moon in May when blossoms are abundant.
The Pink Moon will reach its peak on Thursday, April 6, 2023 at 12:34 a.m. ET.
Pink Moon Meaning: Why Is It Called a Pink Moon?
---
Unfortunately, the Pink Moon did not receive its name because it will actually be pink (just as a Blue Moon is not the color blue).
April's full moon shines on a landscape that is quickly bursting back to life with color. One of the earliest wildflowers to bloom is phlox, which is known for carpeting the ground in blankets of vibrant pink blooms. This is what inspired the name.
While phlox is the main contributor to the Pink Moon's name, other pink-toned spring blossoms such as magnolia, cherry, and crabapple are also opening around this time.
Pink Moon Spiritual Meaning
---
If you're looking for ways to celebrate the Pink Moon, it helps to know that the spiritual meaning of this moon is centered around romance, love, friendship, passion, and creativity.
The full moon represents the end of the lunar cycle. It brings high energy, emotional release, and closure. But there's something special about the Pink Moon.
This full moon arrives at a particularly energetic time as we emerge from winter and welcome warmer, longer days. Animals are busy nesting, foraging, and mating. The trees and shrubs are pouring all of their energy into opening new buds as leaves and blossoms unfold to soak up the sunshine. Sprouts are bursting upward from the ground, stretching toward the light.
In a sense, so are we. Like the other creatures of the world, we are happily emerging from our winter "dens," breathing in the fresh air, and reconnecting with nature in a way we couldn't do in the winter.
Spiritually, the Pink Moon represents life, rebirth, and a deep, primal awakening happening on every level. The heightened energy of spring, amplified by the full moon, stirs an intense yearning to be productive.
Pink Moon Altar Tips, Colors, & Crystals
---
Pink, white, and silver are excellent colors to incorporate into your Pink Moon altar. Other colors associated with spring such as pale yellows, pinks, lavenders, bright greens, and robin-egg blue would be a welcome addition.
You might also consider adding heart-shaped treasures, freshly cut spring flowers, and any other spring decorations on hand. Scavenge for natural finds outside. Ostara symbols (seeds, eggs, rabbits, etc.) that represent fertility will also complement the Pink Moon altar.
Because the Pink Moon has a strong focus on love in various forms and is represented by the color pink (even if the moon isn't literally pink), it's no surprise that rose quartz is the #1 crystal that resonates with this full moon's energy. It's an ideal choice for any crystal work you want to do with the Pink Moon.
Other crystals that work well with this moon tend to represent nature, spiritual awakenings, and grounding, which is important to prioritize so you don't become overwhelmed by the desire to be productive. (It's important to be mindful of how you spend your energy—don't be busy just for the sake of being busy.) Some of the best crystals to complement rose quartz during the Pink Moon include:
Rhodonite – "stone of love," passion, fertility, grounding energy, healing emotional scars
Moonstone – new beginnings, fertility, intuition, lunar/feminine energy
Sunstone – light, life, energy, luck, prosperity, empowerment
Carnelian – connected to the element of fire and the sacred flame
Labradorite – connect with the psyche, dreams, creative muses, spiritual awakening
Amethyst – spiritual protection, insight, self-reflection, shadow work
Moss Agate – restoration, healing, rebirth, a connection with earth and plants
Black Tourmaline – strength, stabilization, grounding, alleviating fear (onyx and obsidian are also good alternatives)
Selenite – purification, cleansing, protection, a symbol of light, ties to the moon
Smoky quartz – grounding, emotional calmness, stress relief
Fire quartz – represents your inner fire, clears fear and doubt, relieves anxiety, revitalizes
Clear quartz – healing, peace, cleansing the mind and aura, divination
Any month's full moon is an excellent time to make moon water and charge your crystals, and the Pink Moon is no exception.
Pink Moon Ritual Ideas for a Solitary Witch
---
If the weather cooperates, try to prioritize outdoor rituals. Take a walk, work in your garden, set up your altar on the deck, and/or ground yourself by walking barefoot or lying in the grass to watch the full moon rise. There are genuine health benefits to grounding (also sometimes called earthing) as your body transfers electrons and reduces the level of free radicals.
Psst… need to stock up on seeds for your garden? Check out SeedsNOW for organic, non-GMO seeds to start your healthy garden. My Garden Box from Cratejoy sends you garden projects and live plants every month. Short on garden space? The Garden Tower Project is a vertical gardening solution that composts waste to feed your plants.
Spring cleaning is an important part of the season (and Ostara). Now is a good time to clear off your altar, give it a thorough dusting, and make sure the items you return to it are important and align with your goals. Change is good. Redecorate in a way that makes you happy.
When performing a full moon ritual during the Pink Moon, be intentional and cognizant of focusing on the love aspects in your life. It doesn't always have to be romantic—you can also focus on your friendships, pets, passions in life, and anything else that brings you joy. Think about those who are most important to you. Pay attention to the relationships in your life, which ones you want to prioritize, and which ones are toxic and need to be pruned for healthy personal growth. You might consider actively reaching out to friends or loved ones you haven't spoken with in a while.
Tonight is a good night to create art, play music, dance, write, or do whatever it is that you love. It's also a powerful time for ritualistic sex in the moonlight.
Don't forget self-love! Take a relaxing bath surrounded by your favorite candles and crystals to maximize the powerful full moon energy. If you're not sure what color candles are best to amplify your intentions, check out this color guide for candle magic. If you're looking for a new candle company to support, I recommend:
Hemlock Park crafts beautiful aromatherapy candles and spa packages, handcrafted with natural ingredients. They offer crystal candles and organic coconut wax candles with wood wicks. But here's why I love this company — they partnered with One Tree Planted to focus on reforestation. A tree is planted for every order placed.
Mama Wunderbar quickly became a favorite for me! Although they have a greater selection of crystals, smoke-cleansing (smudging) bundles, and jewelry, they do have a limited but beautiful candle section, including crystal candles, ritual candles, moon phase candles, and intention candles. When you order from Mama Wunderbar, you can count on everything being all-natural, high quality, and sustainably grown and harvested in the United States. It's a great one-stop shop for your online spiritual needs!
Old Soul Artisan creates handcrafted candles inspired by folklore, literature, and the dark psyche. Their 100% vegan soy candles are hand-blended in small batches and contain no dyes, parabens, phthalates, or other toxins. It's a small, woman-owned, USA business. Another reason to love this company — Old Soul Artisan donates part of its profits to wolf conservation.
Most importantly, when paying your respects to the Pink Moon, remember to slow down, breathe, and ground yourself in the moment. You need a short break in the middle of the chaotic spring energy, and the Pink Moon helps to serve as a reminder to take that moment for yourself.

House Plant Box - $44.99
from:
Cratejoy
A monthly subscription box is a fantastic way to celebrate the full moon! See my top witchy/spiritual box recommendations.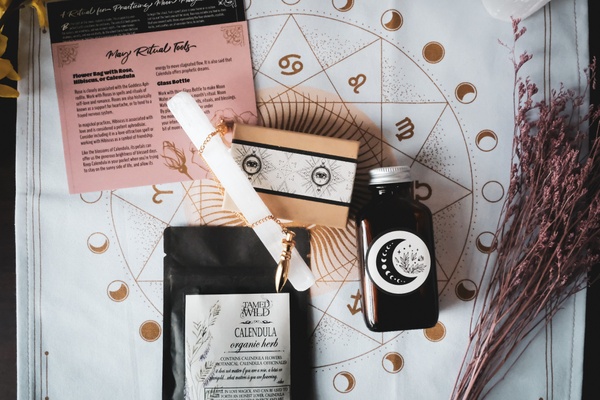 Tamed Wild Box - $60.00
from:
Cratejoy
 For more information on full moons, see the 2023 full moon calendar with names, dates, and meanings here.
Thank you for visiting my website! If you would like to support Green Witch Lunar Witch, you can buy the creator a coffee.
Award-winning fantasy author, freelance writer, spiritual explorer, and sole founder of Green Witch Lunar Witch. She created her first website in 2016 and published her first novel two years later. Sara spends most of her time writing, creating, and daydreaming.