Each full moon of the month has a name. Early Native American tribes christened each moon to reflect the season, whether that was in the form of the weather, flora, fauna, or tribe's activities such as hunting or harvesting. The Pink Moon is also sometimes referred to as the Egg Moon, Grass Moon, Budding Moon, or Fish Moon.
When does the Pink Moon occur?
---
The Pink Moon falls in April toward the end of the month. It comes after the Worm Moon at the early onset of spring and the Flower Moon in May when blossoms are abundant.
This year, the Pink Moon will reach its peak on April 16, 2022 at 2:55 p.m. ET.
 How did it earn its name?
---
The Pink Moon shines on a landscape that is quickly bursting back to life with color. One of the earliest wildflowers to bloom is phlox, which is known for carpeting the ground in blankets of vibrant pink blooms. While phlox is the main contributor to the moon's name, other pink-toned spring blossoms such as magnolia, cherry, and crabapple are also opening around this time.
Honoring the Pink Moon
---
If you're looking for ways to celebrate the Pink Moon, it helps to know that this moon is often known as the moon of romance, love, friendship, passion, and creativity.
Now is a good time to clear off your altar, give it a good clean, and make sure the items you return to it are important and align with your goals. Pink, white, and silver are good colors to incorporate. You might also consider adding heart-shaped treasures and freshly cut spring flowers. Rose quartz is an excellent crystal to honor the Pink Moon.
Take some time to meditate on the love in your love. It doesn't always have to be romantic—you can also focus on your friendships, your pets, your passions in life, and anything else that brings you joy. Think about those who are most important to you, and find a way to incorporate what you love into your ritual. If you love playing music, then play. Tonight is a good night to create art, or dance, or write, or do whatever it is that you love.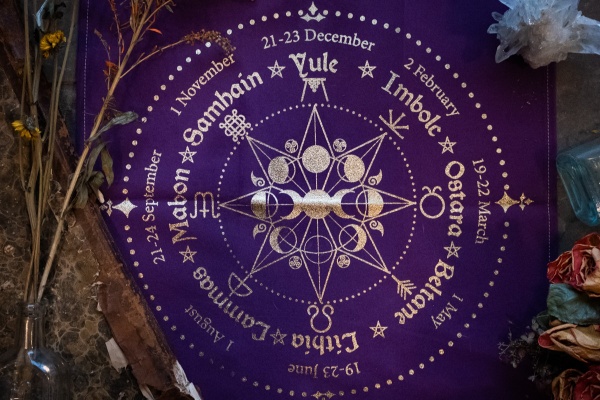 Tamed Wild Box - $20.00
from:
Cratejoy
A monthly subscription box is a fantastic way to celebrate the full moon! See my top witchy/spiritual box recommendations.
For more information on full moons, see the 2022 full moon calendar with names, dates, and meanings here.
Award-winning fantasy author, freelance writer, spiritual explorer, and sole founder of Green Witch Lunar Witch. She created her first website in 2016 and published her first novel two years later. Sara spends most of her time writing, creating, and daydreaming.