Centuries ago, early Native American tribes christened each full moon of the month based on the activities of the tribe and/or the flora or fauna active during the season the full moon takes place. The Wolf Moon is also sometimes referred to as the Old Moon or Spirit Moon.
When does the Wolf Moon occur?
The Wolf Moon falls in January and is welcomed as the first full moon of the new year. It comes after the Cold Moon, which falls near the winter solstice, and the Snow Moon, which occurs in the harshest period of the season.
How did it earn its name?
The Wolf Moon's name isn't a mystery; during this time of year when food is scarce and the weather is bitter cold, the howls of the wolf packs would carry far across the bare, frozen landscape. Although it was widely believed that wolves howled due to hunger, howling is actually a way for the pack to communicate across long distances and may convey warnings of other predators in the vicinity, positions of potential prey, or the location of a lone wolf that's been separated from the pack. But the chilling calls of the wild wolves on a cold, clear January night were memorable enough to warrant naming the full moon after the eerie symphony.
Honoring the Wolf Moon
As the first moon of the new year, the Wolf Moon is generally seen as a positive symbol of hope and renewal despite arriving in the dead of winter. Whether you're setting New Year resolutions or simply starting to focus on the intentions and goals you wish to achieve this year, now is a good time to start looking forward. Success doesn't come haphazardly; it takes planning and commitment. Even though the plant and animal life is still in hibernation all around us, we're starting to stir with ambition. Now is your time to start planning the garden and deciding which seeds you want to plant and nurture to have a successful year and fruitful harvest in the months to come. Focus on your goals and start pondering how you intend to reach them.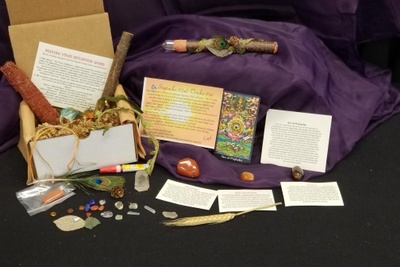 Magickal Earth – $39.99
A subscription box is a fantastic way to celebrate the full moon!
Each month, your Magickal Earth box will be curated to offer provisions to match the month's energy. The Basic comes in a package and includes monthly crystals. The Essential box includes crystals, a monthly astrological overview, and a tarot card drawn just for you. The Premium box offers crystals, astrology, tarot, and many magickal items.
For more information on full moons, see the 2021 full moon calendar with names, dates, and meanings here.