Have you ever heard of a Worm Moon? What does that even mean?
Centuries ago, Native American tribes and early settlers named each full moon of the month based on the activities of the season or the flora and fauna that had prominent roles around that particular time of year. This practice of naming moons has been around for centuries, dating back to a time before people used the standard 365-day calendar to keep track of the days.
The Worm Moon is also sometimes referred to as the Crow Moon, Sugar Moon, Eagle Moon, Sap Moon, or Lenten Moon.
When Is the Worm Moon?
---
The Worm Moon is always in March. It comes after the Snow Moon in the last gasp of winter and the Pink Moon in April when spring is in full bloom.
The Worm Moon will reach its peak on Tuesday, March 7, 2023 at 7:40 a.m. EST
This year's Worm Moon will appear to be larger than usual due to a "moon illusion" effect, so you won't want to miss it!

Worm Moon Meaning: Why Is It Called a Worm Moon?
---
The Worm Moon earned its title because it graces us during the time of year when the frozen ground is beginning to thaw and life stirs in the soil one more. It usually lights up the sky close to Ostara, the spring equinox. Birds pluck abundant earthworms and other types of worms and grubs emerging from the ground, tree bark, and other winter hideouts.
The northernmost Native tribes called March's full moon the Crow Moon when the cawing murders of crows announced the end of winter. Settlers also called it the Sap Moon to mark the tapping of maple trees.

Apothecary At Home - $39.99
from:
Cratejoy
Worm Moon Spiritual Meaning
---
We celebrate the Worm Moon as a symbol of the coming spring and the light and warmth that accompanies the changing season.
Spiritually, this full moon represents an awakening within ourselves as well as the earth. This natural stirring brings with it a sense of urgency, restlessness, and the desire to be productive. The Worm Moon is known for encouraging a "redirection" of our energy. Like the flora building strength to push through the soil, it's time to stop conserving energy for winter and start shifting it toward productivity.
Be cautious about getting lost in that mindset, though. Don't be busy just for the sake of being busy. Take care to not only make sure you're prioritizing your tasks wisely but also to avoid getting swept up in the rush. Don't forget to breathe and relax.
The Worm Moon is a time for rebalancing and paying attention to karmic change. When you're looking forward to the excitement of the future, remember to also keep yourself grounded in the moment.
Worm Moon Altar Tips, Colors, & Crystals
---
When decorating your altar for the Worm Moon, it's important to think spring. Clear away the winter decorations in favor of spring/fertility symbols such as eggs, rabbits, flowers, seeds, etc. If any early flowers such as snowdrops are in bloom, you can harvest them for your home and altar decor.
The best colors for the Worm Moon also align well with the colors of Ostara: greens, lilacs, pinks, and soft yellows. A pastel color scheme works well on a Worm Moon altar.
Some of the most powerful crystals to complement the Worm Moon include:
Labradorite – connect with the psyche, dreams, creative muses, spiritual awakening
Amethyst – spiritual protection, insight, self-reflection, shadow work
Moss Agate – restoration, healing, rebirth, a connection with earth and plants
Black Tourmaline – strength, stabilization, grounding, alleviating fear (onyx and obsidian are also good alternatives)
Selenite – purification, cleansing, protection, a symbol of light, ties to the moon
Moonstone – new beginnings, fertility, intuition, lunar/feminine energy
Sunstone – light, life, energy, luck, prosperity, empowerment
Carnelian – connected to the element of fire and the sacred flame
Clear quartz – healing, peace, cleansing the mind and aura, divination
Worm Moon Ritual Ideas for a Solitary Witch
---
This moon brings a similar message to Ostara. That is, this is a time of cleaning away winter's clutter and preparing the garden, both physically and mentally. We plant seeds in the hopes that later we will have flowers, fruit, and vegetables to reap. Likewise, we plant the seeds of our goals as well and carefully consider how we plan to see them through to fruition.
As with spring cleaning, this is also a good time to let go. In our winter hibernation, we tend to accumulate things and procrastinate about organizing our spaces. Taking the time to clean and reorganize, to remove that which we don't need, can help us open up our workspace and become more functional and efficient. Burn sage or other healing herbs to purify your home with a smoke-cleansing (smudging) ritual (see my list to help choose the right herbs).
You'll also want to find ways to clean and reorganize your mental state. Meditate and focus on letting go of what is cluttering your mind and prohibiting your ability to think clearly and plant your garden with new ideas.
As we look ahead to warmer, longer days, try doing a rune reading or tarot/oracle drawing for guidance as you plan how to move forward with a sense of purpose and productivity. This is also an ideal time to charge your crystals so they're purified and ready to help you channel your energy.
Fire was an important part of ancient rituals. If you're able to safely make a bonfire outdoors, it's a great way to welcome spring. If not, candles are always an excellent addition to your altar and/or ritualistic bath. Read my guide about choosing the right candle color for your intentions in this post. If you're looking for a new candle company to try, I recommend:
Hemlock Park crafts beautiful aromatherapy candles and spa packages, handcrafted with natural ingredients. They offer crystal candles and organic coconut wax candles with wood wicks. But here's why I love this company — they partnered with One Tree Planted to focus on reforestation. A tree is planted for every order placed.
Mama Wunderbar quickly became a favorite for me! Although they have a greater selection of crystals, smoke-cleansing (smudging) bundles, and jewelry, they do have a limited but beautiful candle section, including crystal candles, ritual candles, moon phase candles, and intention candles. When you order from Mama Wunderbar, you can count on everything being all-natural, high quality, and sustainably grown and harvested in the United States. It's a great one-stop shop for your online spiritual needs!
Old Soul Artisan creates handcrafted candles inspired by folklore, literature, and the dark psyche. Their 100% vegan soy candles are hand-blended in small batches and contain no dyes, parabens, phthalates, or other toxins. Another reason to love this company — Old Soul Artisan donates part of its profits to wolf conservation.
Another great activity: making rejuvenating moon water to drink, add to your bath, water your houseplants or garden, use when cooking food for Ostara, or other rituals. Learn how to make, store, and use moon water in this post.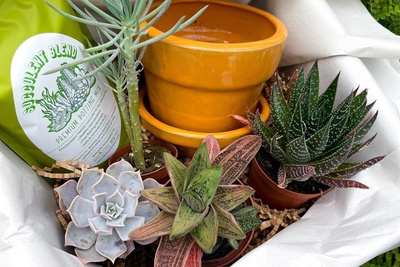 My Garden Box - $39.00
from:
Cratejoy
A monthly subscription box is a fantastic way to celebrate the full moon! See my top witchy/spiritual box recommendations.
I always stress that there is no "right way" or "wrong way" when it comes to honoring the full moon or celebrating the Wheel of the Year. Do whatever feels right and fits into your schedule. As long as you're listening to your body, mind, spirit, and energy, your own personal rituals will serve their purpose.
For more information on full moons, see the 2023 full moon calendar with names, dates, and meanings here.
Award-winning fantasy author, freelance writer, spiritual explorer, and sole founder of Green Witch Lunar Witch. She created her first website in 2016 and published her first novel two years later. Sara spends most of her time writing, creating, and daydreaming.