I searched for the best monthly (and witchy) subscription boxes to suit your spiritual needs as you study and develop your own unique craft.
To make the cut for this list, each box had to score an average of at least 4.5 stars and have a minimum of 30 customer reviews to ensure consistently high quality.
If you've been looking for the best subscription box for crystals, earth magic, intention-setting rituals, herbs, Sabbats, lunar cycle work, and other tools, here's my breakdown of the top subscription boxes on Cratejoy (in no particular order).
**This article contains affiliate links. However, I am not directly affiliated with any of the companies creating these boxes. If you place an order and experience issues, please contact the company's customer service for assistance.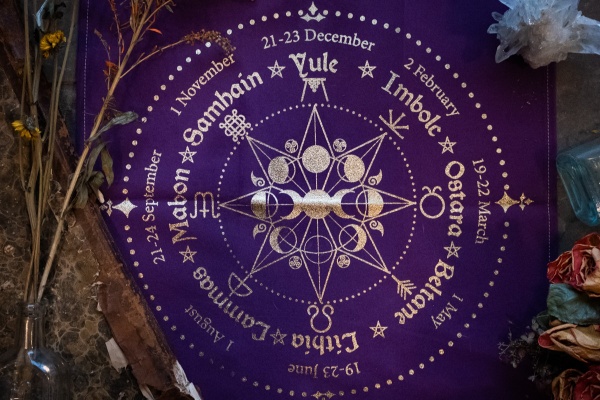 Tamed Wild Box – $20.00
This box received the Top-Rated 2021 Award from Cratejoy and has consistently high ratings with over 580 customer reviews.
Monthly deliveries in this box can include crystals, herbs, teas, altar items, jewelry, ritual tools, essential oils, and other spiritual lifestyle pieces.
What's great about this box is that it also includes intention-setting lunar rituals every month in addition to Sabbat-related themes for months that fall on the Wheel of the Year. It's an all-around great subscription box.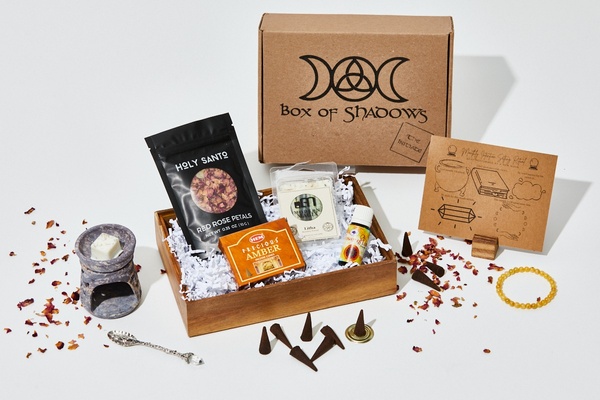 Box of Shadows – $70.00
Box of Shadows is known for curating high-quality witchy subscriptions that prioritize eco-friendly and sustainable practices. Their boxes consistently score 4.5+ with more than 600 customer reviews… so are you surprised they were ranked Top Rated of 2021 from Cratejoy?
This all-in-one box provides a wide variety of tools, including candles, sage, incense, herbs, gemstones, jewelry, altar decor, pagan and metaphysical books, and more. It's a fantastic way to help witches start, build, and maintain consistent practices.

Goddess Provisions – $33.00
This witchy subscription box has established itself as a customer favorite with an average 4.7-star rating and over 1,520 reviews. It received the Best of 2020 Award from Cratejoy.
Each monthly box contains a mix of crystals, aromatherapy, superfood snacks, spiritual tools, and natural beauty products. The company prides itself on featuring 100% vegan, cruelty-free, all-natural products.

Magickal Earth – $39.99
Curated to match each month's energy, this witchy subscription box has several different options based on your price and needs. If you're on a budget and want a simple box, you can subscribe to receive a monthly crystal in a cloth bag with a small info sheet, or you can opt for no crystal and do a basic astrology and tarot box instead.
If you're looking for a more expensive box, Magickal Earth offers an essential box that includes crystals, a tarot card drawn for you, and a monthly astrological overview, or a premium box that includes all of the aforementioned in addition to other tools and items.

Nine of Earth – $59.99
This witchy subscription box arrives every two months and is primarily focused on tarot and oracle work.
Each delivery includes a full-size tarot or oracle deck if you're interested in building a collection. In addition, other items may include candles, incense, crystals, décor, books, and other tools.
This box is created by a small business and features other small-business brands when possible. Men's jewelry is available upon request.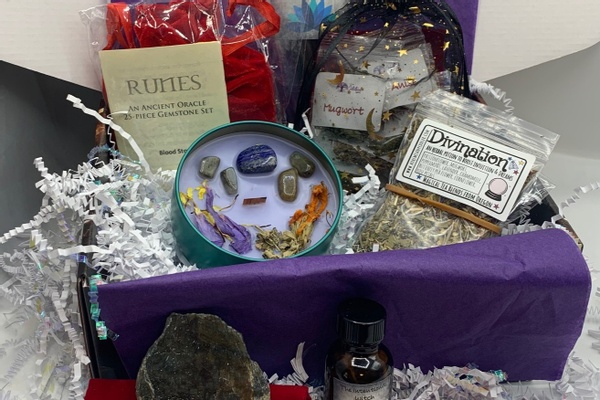 The Intentional Witch – $24.99
This box is a great option for those who are venturing into spellwork and intention rituals. It's available in a mini size to give it a try but also comes in a regular size if you love it and want to invest in a larger box that has extra goodies.
Items can include intention candles, jewelry, healing crystals, ritual oils and powders, divination tools, and intention-focused spells that come with the ingredients you need.

Witchy One by Una Spirit – $20.00
This jewelry subscription box focuses on magical, intentional jewelry, which can include crystals, mythology, symbols, animal totems, and more.
Each box includes two jewelry pieces, one or two crystals, and a lifestyle item such as art, books, body care, et cetera. You'll also find an info card about the intention, properties, and tales about the jewelry items in your box.

The Witches Moon® – $45.00
This high-demand box holds an impressive 4.9-star rating with over fifty reviews. It's a premium subscription box that arrives every month and includes between 10 and 20 items per box.
Gifts can include hand-rolled spell candles, Book of Shadows artwork, spells, altar items, oracle/tarot cards, herbs, et cetera.
Due to the popularity of this authentic box, it's been sold out. The company says it's working on opening availability for new subscribers. In the meantime, you can sign up to be notified when it's available.

The Witches Roots™ by The Witches Moon® – $24.00
Another box by the Witches Moon® that has done extremely well, currently holding a 5-star rating with over 115 reviews.
This box features a variety of natural items that can include dried herbs and magickal flowers, spell coins, ritual body oils, incense, magickal talismans, spell candles, crystals, and custom artwork. Perfect for green and kitchen witches in particular!
The bad news is this box is also hard to get a hold of due to high demand.

Awakening in a Box
from: Cratejoy
Looking to build your collection of divination decks? This witchy box is a fun mash-up of the Mystic Tarot & Empowering Oracle boxes from Awakening in a Box, and it was rated Best of 2021 by Cratejoy.
The Tarot + Oracle Box contains one tarot deck, one oracle deck, one crystal, and two extra products that correlate with the monthly theme. Each crystal also comes with a detailed collectible card describing the metaphysical properties. This box is great about clearly labeling items and providing clear instructions and suggestions, so it's a fantastic choice for beginners who are eager to learn more about divination.

Sacred Space Crate – $50.00
This particular witch subscription box is geared toward personalizing your own sacred spaces to do ritual work.
Each monthly box features between ten and fourteen handcrafted and spell-crafted items, which can include a spell for each month, crystals, herbs, spell-crafted pendants, teas, cleansing items, beauty products, and healing items from the company's own apothecary.
You can also find bonus items in each box such as a Moon in the Astrology Calendar and an extra beauty and/or healing product.

Chakra Box – $39.00
This box is designed to help you balance your chakras with their full 9-box experience. Each box focuses on a specific chakra and features vegan spiritual items that correlate with that chakra.
The chakra box delivers aromatherapy, crystals, gemstone jewelry, altar items, herbal teas, etc. You also get bonus items, such as stickers, a yoga pose card, guided meditations, and a link to an extra digital download.
Extra plus: this company's customer service is phenomenal! It's no wonder the box holds a 4.8-star rating with over 100 customer reviews.

Enchanted Crystal – $46.50
Another Cratejoy Top 2020 Award recipient, this crystal subscription box is a great way to grow your collection.
You can choose from a monthly variety box that contains 4-6 crystals/minerals or, if you're on a budget and looking for a low-cost option, join the Crystal of the Month box. Both options include free bonus mini crystals/minerals.
The company handpicks the products and packages their boxes with eco-friendly and recyclable materials. No outsourcing or fulfillment outside of their in-house team.
Have you tried any of these boxes yet? Please share your experience in the comments! Let us know your favorites (or not-so favorites) and if you have any other recommendations you think should be added to the list.
See more Green Witch Lunar Witch top picks and recommended products HERE.
Award-winning fantasy author, freelance writer, spiritual explorer, and sole founder of Green Witch Lunar Witch. She created her first website in 2016 and published her first novel two years later. Sara spends most of her time writing, creating, and daydreaming.