It's that time of year again! The Yuletide season is almost upon us.
Many modern-day witches celebrate Yule, which is the winter solstice and the eighth festival in the Wheel of the Year. Yule is the longest night of the year. It marks the end of the dark half and the gradual return to the light. Traditionally, ancient people celebrated Yule with candles, bonfires, feasts, singing, dancing, and gift-giving as a tribute to the sun's return.
Since witchcraft is a spiritual connection that isn't tied to any specific religion, many witches also celebrate traditional religious and cultural holidays like Christmas, Hanukkah, Kwanzaa, Diwali, and others.
Have you finished your holiday shopping yet? Need some inspiration for witchy holiday gifts?
In this article, I've compiled a list of ideas to help you find the perfect Yuletide gift for a beloved witch or spiritual voyager.
This article contains affiliate links. If you click on the image of a featured product, it will take you to the listing. Read our affiliate disclosure for more information about how affiliate links are used on this website.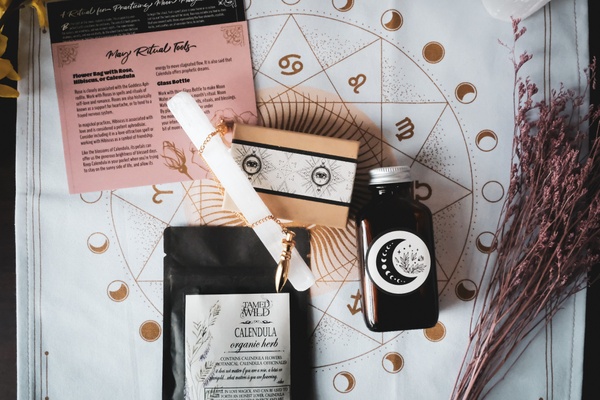 Tamed Wild Box - $60.00
from:
Cratejoy
Witchy Subscription Box
---
One of the best perks about gifting a subscription box is that in most cases, you can purchase a single, nonrenewing box that contains a variety of goodies. If the recipient loves the box, s/he can always sign up for a monthly subscription to continue the fun year-round.
Cratejoy offers a ton of different boxes ranging from arts and crafts, to mystery activities, to self-care, to snacks, to health & beauty, and just about anything you can imagine. They support small businesses, so you can feel good about making a purchase. And with such a wide variety, you shouldn't have any problem finding a theme that a friend or loved one will appreciate!
See my top witchy/spiritual subscription box picks HERE.
Book of Shadows
---
A book of shadows is a journal for a witch to record knowledge they collect as they study their craft. This can be just about anything: crystal uses, meditation practices, chakras, spells, mantras, herbology notes, personal goals, et cetera. Choosing a beautiful and unique book of shadows to wrap as a gift will make the Yuletide celebration even more special.
Mortar & Pestle
---
This is a tool that witches often use to grind their own mixtures of herbs and resins. Typically, they're made of wood or stone, and they're also used for cooking.
If the recipient already has a mortar and pestle, a second one is usually still appreciated to avoid mixing energies! Residue gets left behind each time it's used, which means if you make a concoction with the intention to drive something away, it may feel as if you're mixing opposing energies if you use the mortar and pestle to attract something later.
Oracle or Tarot Cards
---
These are great tools for meditation and spiritual practices. While it's perfectly acceptable to purchase your own deck in this day in age, the cards are said to hold special meaning when received as a gift from someone else. For this reason, an oracle or tarot deck makes a great Yule gift.
Tarot cards are more structured and have more rules, whereas oracle cards are more free-flowing and can vary in number depending on the deck (the featured image is my all-time favorite oracle deck due to the stunning artwork).
If you aren't sure what the difference is between the two kinds of decks, think of it like this: oracle cards show the big picture while tarot cards reveal the finer details. The oracle deck is a book chapter. The tarot deck represents the individual pages within the chapter. They both ultimately tell the same story and can be used separately or together.
Rune Set
---
Runes are tools of divination to provide insight into a situation or answer a question. There are many beautiful rune sets, and they can be crafted of different materials such as wood, stone, crystal, bone, or metal (the image featured is lapis lazuli).
If you're presenting a rune set as a gift to a beginner, make sure you either select a kit that includes a guide and/or rune book or purchase a rune book separately, as many sets include the runes and a small pouch but no book. If you find the perfect rune set but need to buy the book, the most popular version is The Book of Runes by Ralph. H. Blum.
Crystals
---
The possibilities are just about endless! From pyramids, to hearts, to carvings, to palm stones, to wands, and many other varieties, gifting a crystal conveys a special meaning depending on which crystal(s) you select.
Rose quartz, for example, is a gift of love and friendship. Amethyst signifies spiritual protection. Tiger's Eye is said to bring good fortune and prosperity. Obsidian absorbs negativity and seals it away.
With a little research, you can find the perfect crystal to symbolize your kind intentions for a loved one. This can be a deeply personal gift choice for a blessed Yule.
Ideally, I advocate for crystal shopping in person so you can hold the crystals, sense their energy, and feel how they fit in your hand. The colors, pattern, size, contours… all of it impacts how well you connect with a crystal. I like to choose crystals that "speak" to me.
But if you're shopping for someone else, sometimes it's easier to do it online. I recommend checking out Throwin Stones, which has a fantastic crystal selection (and usually runs excellent holiday sales).
Crystal Books
---
If you know a witch who is just getting started with crystals, you can't go wrong gifting a beautifully illustrated, informative crystal book. The Crystal Bible by Judy Hall is one of the most highly recommended guides for beginners and makes a wonderful Yuletide gift.
Diffusers & Warmers
---
Nothing brightens the atmosphere of the home in the dead of winter quite like a wax warmer or essential oil diffuser, and that's what Yule is all about! Melting wax in a warmer that's been crafted into a unique piece of art releases wonderful seasonal and personal favorite fragrances throughout the home. Essential oils are popular in witchcraft and spiritual environments, whether to clear the mind, relax, concentrate, meditate, or even serve as an aphrodisiac, depending on the need and the essential oil being used.
However, if you go with the diffuser option, be mindful that many essential oils are VERY harmful to cats because felines lack a specific enzyme in their liver that would allow them to metabolize and eliminate certain toxins, phenols, and phenolic compounds found in essential oils. If the recipient is a cat owner, be sure to pass along the disclaimer (dogs aren't at as big of a risk, but it still wouldn't hurt to research all the essential oils you plan to use or gift). If in doubt, it's safer to stick with a wax warmer.
Candles
---
Since candles and witchcraft go hand in hand, it's hard to go wrong with this gift choice! Whether they're used for rituals and meditation or just to add some warm light and fragrance to a room, candles are a great pick for anyone on your holiday shopping list. It's a good idea to check the product description and make sure you're buying candles that are made of natural ingredients and free of dyes, parabens, phthalates, or other toxins.
For candles that have fragrance, I recommend Old Soul Artisan, which prides itself on 100% vegan soy candles made by hand in small batches. It's a small, USA-based company that bases its fragrances on literature and folklore. $1 from every online purchase is donated to wolf conservation.
I'm also a fan of Hemlock Park for its candles and gift sets. All of their organic, natural candles are hand-poured in small batches at their artist-owned apothecary in Nevada. Another reason to love this brand—they're a carbon-neutral company that plants a tree for every order placed.
Candlesticks are also a great option for altars and rituals! My top pick is this colored pack of 100% pure beeswax handmade taper candles.
Witch's Calendar
---
Calendars are useful gifts, but you can step it up from a standard puppy calendar to one that's tailored for witches. The witch calendar featured above includes illustrations by award-winning artist Jennifer Hewitson, spells, potions for Wheel of the Year celebrations, rituals, and inspiring articles such as banishing bad habits.
Smoke-Cleansing (Smudging) Tools
---
Also known as smudging in some cultures, smoke cleansing involves burning bundles of dried herbs to purify and protect sacred spaces. Many witches use these smoking bundles to cleanse their homes and altars. The smoke can also be a powerful addition to meditation, spiritual or religious rituals, and general well-being. The most common materials are sage, palo santo, juniper, and cedar.
Smoke-cleansing bundles are common tools witches use in their craft, so you know your Yule gift will be put to good use year-round. Before you shop for smoke-cleansing bundles as a gift, check out this previous post to choose the right materials.
I hope you found this Yuletide shopping guide helpful! Have a blessed and safe Yule 🖤
Award-winning fantasy author, freelance writer, spiritual explorer, and sole founder of Green Witch Lunar Witch. She created her first website in 2016 and published her first novel two years later. Sara spends most of her time writing, creating, and daydreaming.